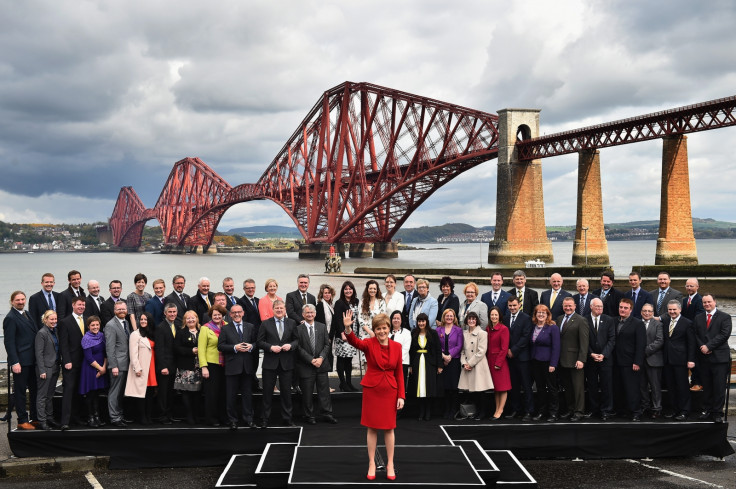 Mentioning Robert Burns in the House of Commons has become so common among SNP MPs it could be an unofficial initiation rite for the so called '56'. The bard, Scotland's answer to William Shakespeare in England, is revered for his radical poetry and folk songs. His commitment to the Scots language and fame across the world have made Burns a national treasure.
His death aged 37 and membership of the Freemasons also give the poet's legacy an air of mystery, not to mention artistic interpretations of his spooky Tam O'Shanter poem. The Ayrshire man's birthday is annually celebrated on 25 January, and a Burns supper was first held in 1801 by the poet's close friends five years after his death.
Ever since then, haggis (a mixture of sheep offal, onion, spices, oatmeal and stock), neeps (turnip) and tatties (potatoes) have been washed down with Scotch whisky. But not before The Selkirk Grace, below, and famous Address to a Haggis have been delivered. A typical Burns supper will usually include recitals of other famous Burns works.
But Angus Robertson, the SNP's leader at Westminster, is to be suspending his whisky-drinking this year as he is taking part in 'dry January'. He will, however, by enjoying the night by reading Burns' poems and preparing for the Moray SNP Burns Supper dinner in the "Scotch whisky-producing heartland, Speyside".
---
What is the celebration of Scotland's national poet all about?
---
Meanwhile, Kilmarnock and Loudoun MP Alan Brown has had a weekend-long celebration of Burns. "I attended a local Burns supper on Friday evening; held my own family Burns Supper on Saturday night; went to a wreath laying ceremony at the National Burns monument in Mauchline [on 24 January 2016] and have another two Burns suppers to look forward to going forward," he told IBTimes UK.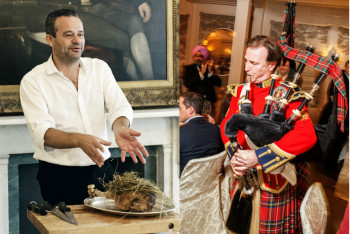 However, he will not be doing "anything special" tonight (25 January) because as an MP he finds it hard to plan around "given it is a Monday and as demonstrated by other events, many organisations make best use of the closest weekends".
A source close to Glasgow Central MP Alison Thewliss revealed that she has already enjoyed her haggis, neeps and tatties in the members' tea room of Commons at lunch, while Inverclyde MP Ronnie Cowan will be attending the Glasgow International Comedy Festival's Burns Night Comedy Gala at Leicester Square Theatre.
Elsewhere, Roger Mullin, the SNP man who succeeded Gordon Brown as MP for Kirkcaldy and Cowdenbeath at the last general election, will be having a "small, homely" Burns night in his London flat. Mullin also has his own claim to Burns fame.
"My four-times great-grandfather was Hugh Roger, who was a teacher of Burns. I have performed at more than 200 Burns suppers mostly in Scotland, but also in Italy, Namibia, the Isle of Man and Ireland." The nationalist also said he helped pay his way through university "many, many years ago" by doing a one-man-show of Burns on weekends.
The Selkirk Grace

Some hae meat and canna eat,

And some wad eat that want it,

But we hae meat and we can eat,

And sae the Lord be thankit.