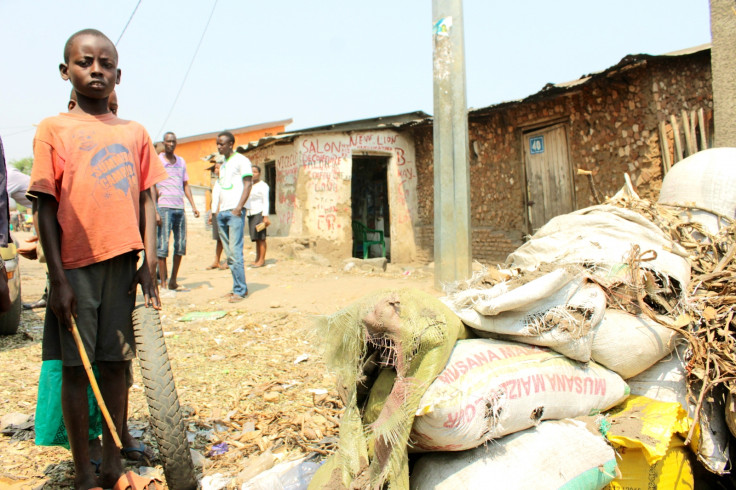 Burundians have welcomed the news that the African Union (AU) has agreed "in principle" to send troops to Burundi to stop the country from spiralling into anarchy, after the strife-torn nation's government has declared it "too early" for a military intervention on its soil.
The country's current political crisis pits supporters of President Pierre Nkurunziza against those who say his re-election in July for a third term violated the constitution of a nation still reeling from its civil war that occurred between 1993 and 2005, leaving 300,000 people dead.
The Council for the Observance of the Constitution, Human Rights and the Arusha Peace Accord (CNARED), an alliance-in-exile of several opposition movements, lauded the "historic" AU decision, but warned that the measures need to be "implemented as soon as possible".
Jeremie Minani, CNARED's spokesman, told IBTimes UK that the council was satisfied, "because we've always said that when someone wants to commit a genocide and exterminate a part of the population, we can't ask him to stop but only to force him to stop, and that's the logic behind the sending of troops to protect civilian populations".
If the AU decided not to proceed with the intervention, however, Minani said there is a risk that the conflict could degenerate into a genocide "that is irreversible".
Speaking from exile in Brussels, Pancrace Cimpaye, spokesman for the Alliance for Democratic Change (ADC-IKIBIRI) – one of Burundi's largest opposition parties – simply told IBTimes UK: "It's very good news, it's going to stop the violence".
Burundians: 'Intervention is our Christmas present'
In Burundi, meanwhile, an activist and genocide survivor who now works in peacekeeping described the AU's decision as "our Christmas present".
For residents of the capital Bujumbura, the intervention could mean "less killings", as local resident Reynolds told IBTimes UK . "I think they will be less killings, or maybe they will find ways to hide the killings, because up to now it was done with total impunity, in broad daylight. In any case it's better than the useless discourse that we should go on the negotiations table."
Eric, a civilian supporter of the opposition living in Gitega, stated that sending peacekeepers "is an option that is as awaited as the return of Jesus Christ of Nazareth", but insisted that the union waited too long to act.
"Officially, there is no genocide because the number [of dead] is lower than it should be, they say. How many deaths do we need? If the average is 10 corpses per day, is how many per month? How many per year? Prepare yourself to build the Bujumbura memorial centre and remember that the wicked are not those who do evil, but those who watch and do nothing," he told IBTimes UK.
While lauding the measure, local journalists expressed doubts, with one telling IBTimes UK: "I don't believe in it. In any case the government will not accept."
These views were shared by another resident of the capital, who also voiced reservations about effectiveness of the intervention and "what level of action we can expect" from the troops.
He said: "I say that because there have been cases when people have been killed even under the eyes of the Blue Helmets [UN peacekeepers] but we hope that it will get better in Burundi and that Nkurunziza will understand that conflict cannot be resolved through violence and evil does not cure evil."
Will the AU have enough funding?
Ghilain, who was born in Bujunbura, said that every contribution that would help stop lives being ravaged "is most welcome", but questioned whether the AU would have enough funds to function and maintain an intervention if the conflict holds out.
Talking about these funding concerns, CNARED's Minani added: "The question doesn't only concern the AU, but also the entire international community. The moral obligation imposes on each state, African, European or otherwise, to invest in stopping any genocide on the African continent. We saw what it costs when we decide to intervene too late. I would like to believe that the United Nations will invest in making sure that this decision [sending troops] that will affect the Burundian people will be implemented as quickly as possible."
Views from neighbouring nations
Kennedy Nari Rwema, a Congolese businessman from Goma, said he believes the intervention is "a good thing even if if it's too late", adding "its a pity that they [only] intervene after 1,000 people have already lost their lives."
According to Rwema, the Congolese are very affected by their Burundian neighbour's fate, because "DRC people share the same cultures and same languages even if there is some different in accents, so it hurts us a lot when we see Burundians being killed like animals."
"We also fear that if a civil war starts, many young men in the region will go there to fight, because most of them are angry when they sees picture of dead bodies circulating on social media networks," he told IBTimes UK.
'Too early to send troops' says government
The government, meanwhile, estimated that it was "too early" for troops to be sent on Burundi's soil. "It's not the first time that we hear a minister of a certain country asking for troops to be sent to Burundi so we estimate that what happened Friday may have just been a pretext for some to achieve their goal," Alain Aimé Nyamitwe, the minister of foreign affairs, told RFI.
That said, he added, sending troops "obeys principles and standards and we estimate that Burundi, as a member state of the UN, has the right to be treated properly in the respect of the legal and relevant principles".
Nyamitwe explained how the government regrets what it describes as the "radical positions" that are, at times, expressed by some states within the UN Security Council (UNSC) regarding Burundi.
"Sometimes, the UNSC has taken decisions that were not necessarily wise – but I do not want to give you any example of troop interventions or the invasion by member states, actions which have not necessarily resulted in the objective that was signalled at the beginning," he added.
Many commentators now believe the government will reject the AU's initiative.
At least 400 people have been killed and almost 3,500 have been arrested in Burundi, a nation the UN high commissioner for human rights, Zeid Ra'ad Al Hussein, said was on the brink of civil war.