Over 105,000 people have fled Burundi since violence erupted after President Pierre Nkurunziza announced he will seek a third term in the June election, according to reports from the country.
Protesters accused the president of violating the constitution and the Arusha Peace Agreement, which says the president can only stay in power for two terms. At least 20 demonstrators were killed and reports emerged that police fired on protesters.
However, Nkurunziza's supporters argue that the president's first term should not be counted, as he was chosen by the Parliament and not by people as is indicated in the agreement.
Nkurunziza has been accused of implementing a genocide fear and using it in his favour. As a result, more than 50,000 Burundians who fear persecution have fled and sheltered in neighbouring countries.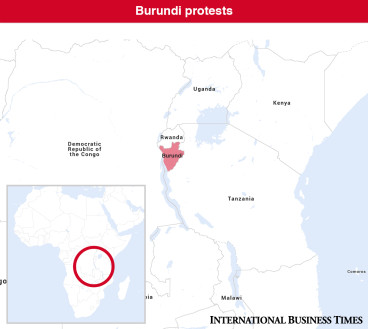 In a previous interview with IBTimes UK, Uganda-based independent journalist Fulvio Beltrami alleged that in order to implement a genocide fear, Nkurunziza used the Imbonerakure - the youth wing of his party's National Council for the Defense of Democracy - which has been allegedly brainwashed with genocide propaganda during training in eastern Congo by the Hutu rebel group Democratic Forces for the Liberation of Rwanda (FDLR).
The FDLR includes members of the Interahamwe, or "those who stand together", a Hutu paramilitary organisation responsible for the 1994 Rwanda genocide. The organisation left Rwanda and sheltered in DR Congo in the aftermath of the ethnic cleansing.
Rwanda has also expressed concern at reports claiming that violence in Burundi was linked to the FDLR. The claim has been denied by the government, which has also dismissed coup claims.
People are fleeing because of 'rumors'
Willy Nyamitwe, spokesperson for the Burundian government, told IBTimes UK that according to the government's figures, only 35,000 Burundians have left the country.
"Among all the persons who fled none can say that they were injured, none of them can say that their houses had been burned or destroyed, which means that people are fleeing the country because of rumours spread by some media station here that warned a total war was coming," said Nyamitwe.
"People want to raise a conflict between Burundi and neighbouring countries like Rwanda by using words such as genocide – but who is going to kill who? Through dialogue and negotiations we came out with a solution in our country and we reached a deal of 50/50 power sharing. So people who are bringing in this narrative, that is negative and wrong; they just want to create conflicts.
"Some even said that there are members of the FDLR in our country, but this is false because nobody was able to provide any evidence of what they were stating."