At least three leaders of a failed coup in Burundi have been arrested by government loyalists hours after President Pierre Nkurunziza returned to the capital Bujumbura.
The leader had left the country to go to Tanzania to attend a meeting by the East African Community (EAC) – formed of Kenya, Rwanda, Tanzania, Uganda and Burundi – to discuss the ongoing situation in his country. Violence erupted after Nkurunziza announced he will seek a third term in the June election.
Burundi
Capital: Bujumbura.
Population: 10.6 million of whom 85% are Hutu, 14% Tutsi, and 1% Twa.
Official languages: Kirundi, French, English.
Colonisation era: Burundi and Rwanda were German colonies from the 19<sup>th century until the end of the Second World War. Then Belgium took control of the so-called "Rwanda-Urundi", modern day Rwanda and Burundi.
Burundi gained independence and established a constitutional monarchy in 1962. It became a republic in 1966.
Civil war: The first democratically elected Hutu president, Melchior Ndadaye, was assassinated by Tutsi extremists three months after taking office in 1993. Hutus started massacring Tutsis and in retaliation, the army, mainly composed of Tutsis, killed thousands of Hutus.
This sparked civil war which claimed at least 300,000 lives.
Protesters accused the president of violating the constitution and the Arusha Peace Agreement, which says the president can only stay in power for two terms. At least 20 demonstrators were killed and reports emerged that police fired on protesters.
However, Nkurunziza's supporters argue the president's first term should not be counted, as he was chosen by the Parliament and not by people as is indicated in the agreement.
Following weeks of protest, the Burundian army announced a coup on 13 May. After hours of pitched battle between forces loyal to incumbent Nkurunziza and the supporters of the coup, the president managed to return to Bujumbura.
It is not yet clear whether Gen Godefroid Niyombare, who announced the coup on a radio station, was among those arrested.
A senior police official told AFP that Niyombare was on the run after escaping capture.
"General Niyombare has evaded us but we know where he is hiding," the official said,
Previously, Niyombare told AFP: "We have decided to surrender. I hope they won't kill us."
A government's spokesperson told the BBC that people behind the coup "will have to face justice".
UPDATE
(11.50am GMT 15 May)
The BBC reported that protesters are back on the streets of Bujumbura and they are erecting barricades in the Musaga district, an opposition stronghold.
A journalist reported on Twitter that he saw police firing.
AFP confirmed that Nkurunziza is back in his hometown of Ngozi, and he is expected to reach Bujumbura today.
(10.30am GMT 15 May)
The US Embassy in Burundi announced it closed down and non-emergency staff are leaving the country.
The UN Refugee Agency (UNHCR) warned that over 105,000 people have fled Burundi.
(10.15am GMT 15 May)
A colonel who did not participate in the coup spoke to IBTimes UK and alleged that Nkurunziza is not in Burundi. The same allegation was made by another source, who spoke on condition of anonymity.
(9.50am GMT 15 May)
A source close to us told IBTimes UK that there is a widespread sense of discouragement among Burundians. The source, who spoke on conditions of anonymity, added it is feared that clashes will resume.
(9.30am GMT 15 May)
The arrested coup leaders are former defence minister Gen Cyrille Ndayirukiye, police commissioner Zenon Ndabaneze and police commissioner Nimenya.
A Burundian activist posted a tweet alleging that the three leaders arrested may face execution.
Burundian civil groups have called for fresh demonstrations.
Kate Forbes from the BBC said would-be demonstrators have been warned not to stage any protest.
Coup leaders 'did not have the capacity'
Willy Nyamitwe, the Burundian president's spokesperson, told IBTimes UK the coup failed as the leaders did not have the capacity.
"This was not a coup but a joke because it was impossible for persons like Gen Niyombare and Ndayirukiye to lead the coup because they don't have the capacity."
Nyamitwe added that Burundians are no longer demonstrating as leaders who organised the protest are now arrested.
He said: "I do confirm the president is back in Bujumbura and is going to address the nation in a few moments."
Nyamitwe could not confirm the number of coup leaders arrested.
Nkurunziza has tweeted that he is back in Burundi. He also added that the situation is now under control and asked Burundians to keep calm.
Nkurunziza has been accused of implementing genocide fear and using it in his favour. As a result, more than 50,000 Burundians who fear persecution have fled and sheltered in neighbouring countries.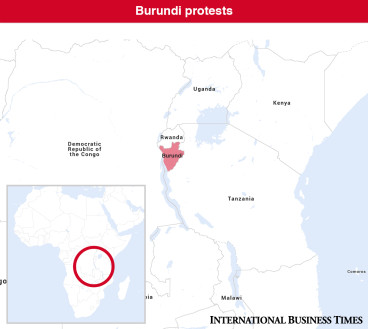 In a previous interview with IBTimes UK, Uganda-based independent journalist Fulvio Beltrami alleged that in order to implement a genocide fear, Nkurunziza used the Imbonerakure – the youth wing of his party's National Council for the Defense of Democracy – which has been allegedly brainwashed with genocide propaganda during training in eastern Congo by the Hutu rebel group Democratic Forces for the Liberation of Rwanda (FDLR).
The FDLR includes members of the Interahamwe, or "those who stand together", a Hutu paramilitary organisation responsible for the 1994 Rwanda genocide. The organisation left Rwanda and sheltered in DR Congo in the aftermath of the ethnic cleansing.
Rwanda has also expressed concern at reports claiming violence in Burundi was linked to the FDLR. The claim has been denied by the government, which has also dismissed coup claims.