After an hour of discussion with the Burundi's embattled President Pierre Nkurunziza, the United Nations Secretary General Ban Ki-moon announced that the head of state had promised to release 2,000 prisoners and to do everything to enable an inclusive dialogue.
Burundi was thrown into crisis in April 2015 when Nkurunziza decided to run for a controversial third term that he went on to win in July. The conflict has so far killed up to 900 people. Scores of bodies are reportedly still being found in the streets, in tit-for-tat violence pitting pro-Nkurunziza forces and insurgents, in a region where memories of a 12-year bloody civil war are still strong.
IBTimes UK asked a representative of the opposition, a human rights activist and a local resident of the capital Bujumbura about their views on the regime's promises to Ban Ki-moon, who landed on Monday (22 February) for an official visit during which he met Nkurunziza and other participants in support of ongoing UN efforts at resolving Burundi's political crisis.
Cnared: promises 'a diversion'
The Council for the Observance of the Constitution, Human Rights and the Arusha Peace Accord (CNARED), an alliance-in-exile of several opposition movements, welcomed the UN's efforts, but said it does not expect much from Ban Ki-moon's visit.
"We don't expect much, because Nkurunziza remains focused on his principal objective: no negotiations, no potential compromise with the opposition – that he wants eliminated. Even before Nkurunziza had announced his candidacy for a third term, Ban Ki-moon had personally called to advise him against running for third term. At the time already, Nkurunziza did not listen to Bank Ki-moon," the coalition's spokesman Jeremie Minani exclusively told IBTimes UK over the phone.
Minani questioned the veracity of Nkurunziza's promises, claiming these could have been outlined because of fears of losing European Union funding. "We welcome the apparent promise of an inclusive dialogue and the release of promisers, but we expect these to be diversions because the government needs funds to survive, day after day," he said.
"Remember, in the run-up to the AU summit, Alain Nyamitwe (Burundi's Minister of External Relations and International Cooperation) had made a surprise announcement that the government was accepting an inclusive dialogue and international mediation, without condition. But that was a trick to fool the AU into not sending the Maprobu (peacekeeping force) 'because the crisis would be amicably settled' he said at the time," Minani explained.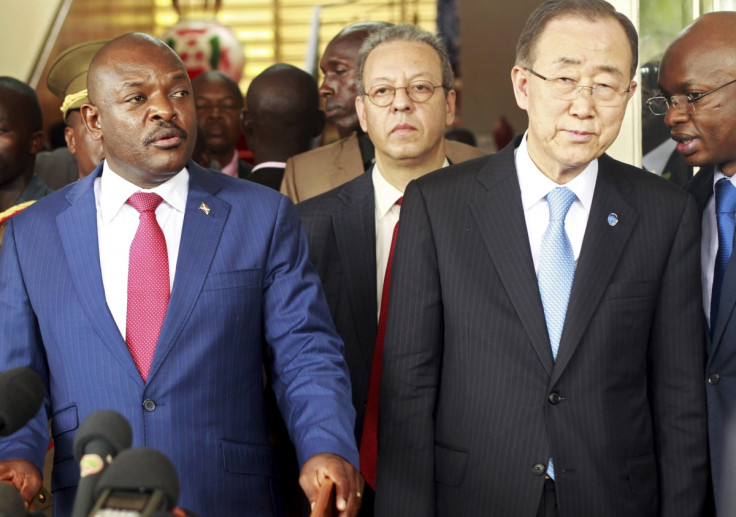 The plan to deploy the Maprobu, which was put forward in mid-December 2015 to prevent mass bloodshed, was abandoned after fierce opposition from the Burundian president and some other regional leaders.
According to the coalition's spokesman, the UN Secretary General now needs to be frank, and push Nkurunziza to accept negotiations led by an international mediation, and accept the deployment of the Maprobu force to protect civilians.
After the summit, however, the Presidency said it could not participate in an national dialogue – claiming it could not negotiate with "terrorists". "That's the road he has so far taken and I cannot see how Ban Ki-moon will manage to convince him to change. It would be extraordinary, and a development we would appreciate very much. However, chances are minimal."
If Ban Ki-moon fails to do so during his short visit, CNARED insisted the Secretary General needs to mobilise the entire international community to take concrete measures to bring the government to give in on the above issues as soon as he lands in New York.
Rights activist: Wait for dialogue in vain?
A Burundian rights activist, who asked to remain anonymous, said he hoped the meetings would not be too diplomatic – instead really practical. "My fear is that Mkirunziza will pretend to be responsive and let Moon go with a smile but wait for dialogue or allowing troops to come but in vain," he told IBTimes UK over the phone.
A high-level of African heads of state will be landing in Burundi on 25 February as part of an African Union (AU) diplomatic visit. (Read more: Who are the five heads of state pressed to convince Nkurunziza to accept peacekeepers?)
"Some people say it is the last chance for Nkurunziza while others say the next two weeks are going to determine Burundi future as the AU delegation will follow Moon. I guess every one is eagerly waiting to see the results of the visit," he said.
Echoing Minani's interrogations, the activist said he wondered what could guarantee the implementation of the promises and "how much time it will take", he said highlighting the disappointment of many observers and victims at the UN and AU inaction on the Burundi crisis.
"I think the visit will conclude if the UN and AU can or can not help Burundi. My hope is that people will have access to international protection they have been calling for (Maprobu) as systematic killings continue every single day, and that the militia will be disarmed," he said, adding: "I also hope dialogue will take place soon and that the thousands of refugees will be able to return home. That's why I expect from Ban's visit."
Resident: Government needs EU money – people are hungry
A local resident in Bujumbura, meanwhile said he believed the re-opening of two independent radios, ISANGANIRO and REMA FM, the visit and promises were intended to "improve Burundi's image", adding it was" merely a good communications operation" to retain international support.
Speaking from the capital, Rene (name has been redacted to protect his identity) said it was important to have EU money to help run the government. "If they do not have the support they are lost, so they do everything for their image," he said.
"People are hungry (in Burundi), the government is poor, there are too many guns, the rebels promised to retaliate, the police uses racist language," Rene said, adding he was planning to leave the country soon "before it is too late andthis situation lasts too long".