Burundi violence: Still unclear whether coup will succeed says UN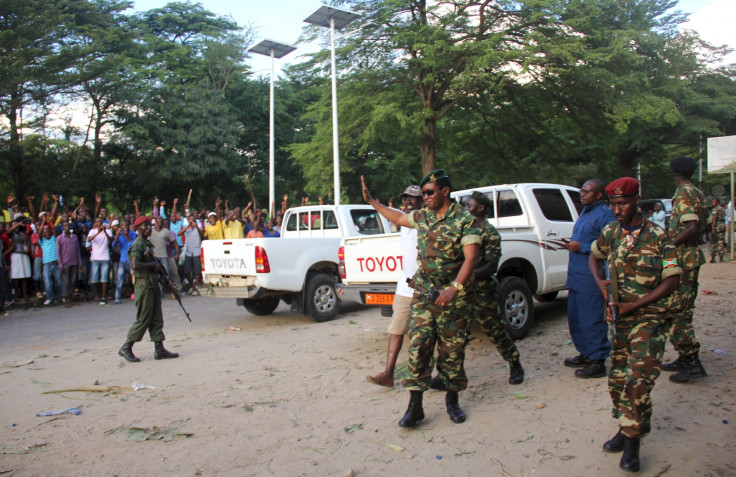 The UN Security Council has said it is still unclear whether a coup in Burundi would succeed.
UN envoy Said Djinnit met with council diplomats from Nairobi to discuss the ongoing unrest in Burundi, where violence erupted after President Pierre Nkurunziza announced he will seek a third term in the June election.
Protesters accused the leader of violating the constitution and the Arusha Peace Agreement, which says the president can only stay in power for two terms. At least 20 demonstrators were killed and reports emerged that police allegedly fired on protesters.
Following weeks of protest, the Burundian army announced a coup on 13 May, hours after the president left to attend a meeting by the East African Community (EAC) – formed of Kenya, Rwanda, Tanzania, Uganda and Burundi – on the ongoing situation in his country.
The coup sparked clashes in the capital Bujumbura between forces loyal to the government and supporters of the overthrow.
The latest reports suggest army units backing the coup took over the RTNB public television and radio station in Bujumbura, previously occupied by loyalists.
The BBC reported that an independent news website shut down stating that it would stop delivering news for security reasons.
Following the coup declaration, Nkurunziza allegedly tried to go back to Burundi, but some reports initially suggested the president flew to Uganda as it was not possible for his plane to land at the Bujumbura airport after the army declared the coup and closed it. Other reports suggested he never left Tanzania and is now in hiding.
Nkurunziza's spokesman told the BBC the president is "safe and sound" but declined to disclose the leader's location for security reasons.
IBtimes UK previously reported that Nkurunziza made a statement in the Kirundi language for the attention of the people of Burundi, urging the people to remain calm. He also thanked the defence and safety forces of Burundi for the "good work to foil the attempted coup".
During the same interview, the Burundian president said "many coup leaders went" and called those who still resist to disarm, but stressed "the country's borders are not closed".
According to a report by AFP, the UN Security Council has been divided on how to address the crisis, with Russia and China arguing the matter should be resolved internally. UN secretary-general Ban Ki-moon appealed for calm.
© Copyright IBTimes 2023. All rights reserved.