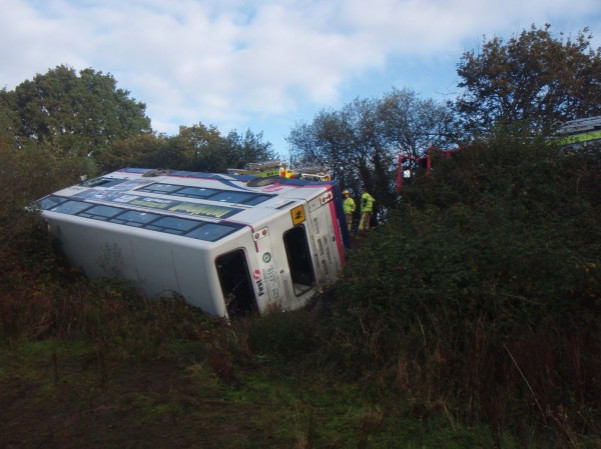 A double-decker bus carrying 56 students from Kingston Maurwood College has crashed on the A350.
Emergency services were called following reports a bus had overturned into a field between Upton and Lytchett in Poole shortly after 8:15am.
Up to five students aged between 16 and 18 the driver were treated for minor injuries.
The driver of the bus was treated for shock. Bus operator First has said it will launch an investigation in to the accident.
A spokesman for First Hampshire and Dorset said: "The exact cause of the incident is not yet known but it will be thoroughly investigated.
"Our team are at the scene and they will work closely with the relevant authorities to determine exactly what has happened.
"Our thoughts, however, are currently with those who have sustained injuries as a result of this incident- we wish them all a full and speedy recovery."
Dorset Fire and Rescue Service said fire crews from Poole and Blandford attended and assisted the police & ambulance services.
A spokesperson from South Western Ambulance Service NHS Foundation Trust said none of the students injured in the crash are thought to be in a life-threatening condition.
"There are a number of patients thought to be walking wounded and they will be treated by ambulance clinicians at a location near to where the incident occurred," he said.
One of the students, Jade Elizabeth, told the Dorset Echo: "I can't tell you how scared I was. It was terrifying. As the bus was tipping I thought it was a dream, but when I got to the ground all covered in glass, I thought, that's it I'm going to die. Thanks to the police, fire brigade and ambulances - we wouldn't be here now."