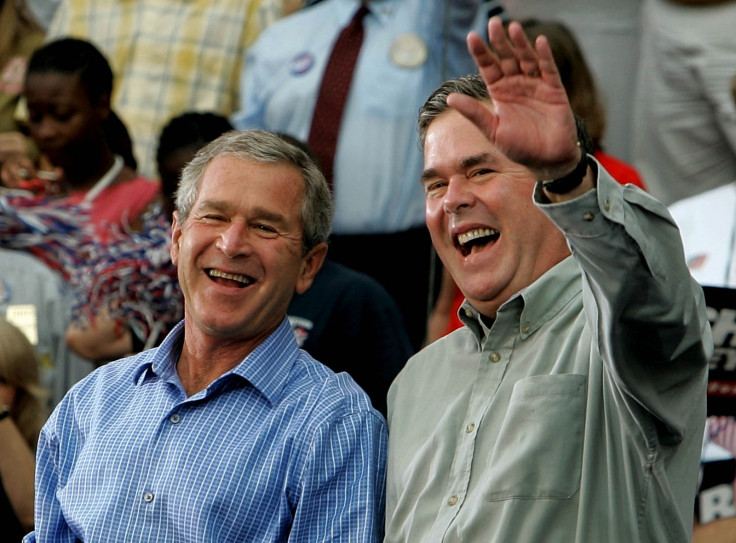 As Jeb Bush squares up to attempt to become the third member of the family in four decades to become US president in 2016, he will be attacked by Democrats as an out-of-touch member of the political and financial elite, according to leaked documents.
Democrat campaigners will attempt to tie the former governor of Florida to the legacy of his old brother, former president George W Bush, who remains a divisive figure for many Americans following the War on Terror and the 2008 financial crash; according to a document obtained by Politico.
"Jeb Bush has spent his career doing what would benefit himself and people like him – certainly not looking out for working Americans," the talking points document, an outline of potential Democrat lines of attack, says.
"Bush spent recent years cashing in on Wall Street as Americans were hit by the financial crisis. Since leaving public office, Bush has been involved in several problematic business deals, creating a multi-million dollar fund in a tax haven, and leveraging his family name to reap profits for himself.
"But we also know what to expect from a Bush presidency because we've seen it before: policies that wreck the economy, that give massive breaks to the wealthy and corporations, and that are out of step with American people including women, LGBT Americans, Latinos and people of color."
Jeb Bush, whose father George HW Bush also served as president, reacted to the claims on his Facebook page last night, attacking the Democrats for their "kindergarten attacks".
"Everywhere I go, people tell me how tired they are of the dysfunctional, squabbling silliness of politics today. These silly talking points, misleading and misinformed as they are, show you just how void of ideas the Democrats have become after six years of poor results in every area of our nation's business, from our struggling economy to our weakening position on the world stage," he wrote.
Jeb Bush has faced criticism in some quarters for work he has done for offshore private equity funds financed by foreign investors.
According to some experts Jeb Bush is the frontrunner to secure the Republican Party's presidential nomination for the 2016 election. He is likely to face Democrat Hillary Clinton, the former US Secretary of State and the wife of a former US president, in the race for the White House.
However, Jeb Bush is disliked by many on the Republican right for what are regarded as centrist positions on immigration and education.
US political analyst Larry Sabato told The Times that Jeb Bush "may not be able to overcome his surname baggage and the aggressive dislike of much of the Tea Party".
Jeb Bush held the position as Flordia's governor between 1999 and 2007: the only Republican to serve for two terms as governor of that state.