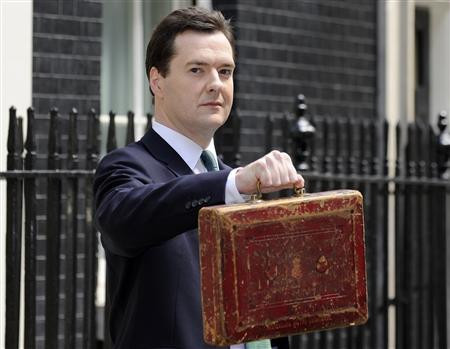 Yesterday's Emergency Budget by Chancellor George Osborne has been welcomed by business as "convincing" and "sensible" while Unions have condemned it as "hammering the poor" and "vintage Thatcher".
The CBI said that Mr Osborne had been successful in producing a credible plan for public finances while still offering a convincing strategy for long term growth. The rise in Capital Gains Tax from 18 to 28 per cent was described by the CBI as a "sensible balance". Before the budget it was said that CGT could rise to as high as 40 or even 50 per cent.
Richard Lambert, Director General of the CBI, said, "There was clear recognition in the Budget of the role that business needs to play in getting the economy back into shape, and generating the jobs and wealth needed to sustain economic recovery.
"The Chancellor has sensibly taken measures to secure public support by offering extra help to cushion the impact on low-income families.
"This Budget is the UK's first important step on the long journey back to economic health. The autumn spending review, and the re-engineering of public services, will be equally challenging."
However Union leaders were less than impressed. Trade Union Unite said that some of the measures announced, such as raising VAT to 20 per cent, freezing child benefit and cuts in public and welfare spending, would hit working people and hamper economic recovery
Derek Simpson, Joint General Secretary of Unite, said, "Osborne and Cameron's talk of financial Armageddon is not because they have the solution to the deficit but to scare the British people into accepting the biggest attack on essential services for a generation. Today the mask slipped to reveal this government for what it is - Tory slashers of services and friends of the rich and powerful.
"Where is the promised fairness in cutting the wages of needy households yet fighting shy of closing the tax loopholes which allow the wealthy to dodge their duty to this country? And increasing VAT is reckless - it will stop people spending, harm UK business and choke off the recovery.
"This budget is vintage Thatcher. The Lib Dems have been conned into hammering the poor, choking off investment and cuts that risk plunging this country into a longer and deeper recession. If they do not disassociate themselves from this, then the Lib Dems will have to bear the responsibility."
Brendan Barber, General Secretary of the Trades Union Congress also criticised the budget for being "economically dangerous and socially divisive" and for doing nothing to bring down unemployment.