Cairo University Sexual Harassment: Are Egyptian Women Safe?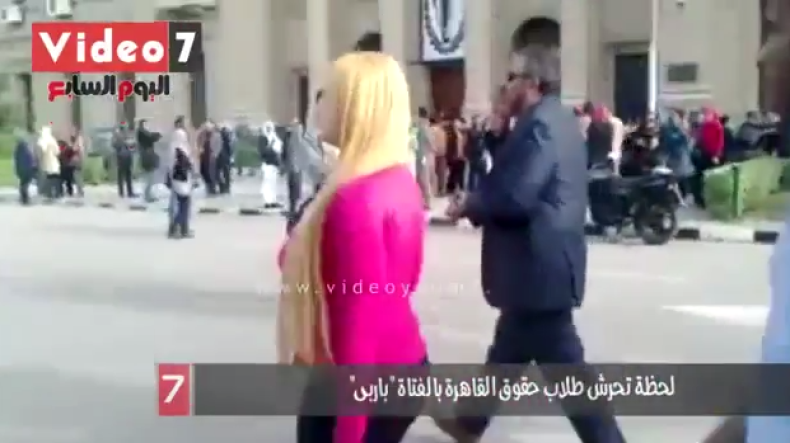 After Dean of Law School at Cairo University,Gaber Nasser, suggested that the sexual harassment of a woman by fellow male students was caused by her choice to wear an "unconventional" pink top, many have questioned the safety of women in Egypt.
Following Nasser's comments, hundreds of people have taken to the social media to vent their outrage.
Many slammed the Dean for his offensive remarks and condemned Egypt for not doing enough to protect its women.
According to a 2013 UN survey, 99.3% of Egyptian women reported being sexually harassed, with 91% saying they felt insecure in the street as a result.
In the survey, 96.5% of women said that sexual harassment came in the form of touching, which was the most common manifestation of sexual harassment. Verbal sexual harassment ranked as the second-highest complaint by women with 95.5% of women reporting cases.
Three months later, the Guardian reported that more than 80 women were subjected to sexual assaults and rape in one night, during celebrations in Tahrir Square following the ousting of then President Mohamed Morsi.
As explained by Fathi Fareed, coordinator of I Witnessed Harassment, Egyptian women are often blamed for being harassed.
"The surrounding environment blames the victim.There's no deterrent, no media rhetoric to condemn this crime," Fareed told Ahram Online.
According to women's rights activist Mariam Kirollost, violence against women is so common that it has become a norm.
"People don't find there is anything wrong with it," Kirollos explained. "Rape is only defined as a vaginal penetration".
In Egypt's penal code there are only three articles which deal with sexual harassment.
Activists have been pushing for a law that specifically criminalises this type of abuses; despite two draft laws have been presented, none has been officially adopted so far.
When women try to file complaints under more general harassment and assault laws, their cases are not taken seriously by police.
A big obstacle to protect women against sexual harassment, is the necessity of having proof. With no evidence, victims cannot make a report or bring a case to court. Egyptianinitiatives.com highlights also cited problems such as lack of public awareness of the law and hesitance of victims to make a report as impediments to the protection against such abuses.
With an overwhelming majority of Egyptian women being abused daily, more has to be done from a legal point of view to tackle these widespread crimes.
As Kirollos said:"Ignoring [the problem of sexual harassment] is not going to change anything. So we demand our basic rights, as human beings, to walk on the streets safely."