Hundreds of protesters have blocked a major highway in northern France, demanding that the so-called "Jungle" camp is closed. Tensions among locals have increased as the population of the camp has risen to at least 7,000 people from the Middle East and Africa, all of whom are trying to reach the UK.
Truck drivers drove their vehicles along the motorway which links Boulogne-sur-Mer to Calais, while dockers and merchants travelled by foot, with members of the farming community in nearby Coquilles voicing their support. Many farmers joined in the protest by driving their tractors along the roads. "We are fed up with the migrant situation in Calais. They are increasingly aggressive," French trucker Blaise Paccou told the Associated Press. "We leave in the morning. We don't know how we're going to return in the evening because of the rocks and metal bars being thrown at us."
The convoy of tractors and lorries was one of two that set off from different assembly points towards the Calais at around 8am (6am GMT) on Monday (5 September). Calais residents have also formed a human chain along the port road. Local authorities are urging travellers to avoid the area in hopes of limiting disruptions from the Monday blockade, aimed at paralysing traffic on the route used to access Britain via the Eurotunnel and port.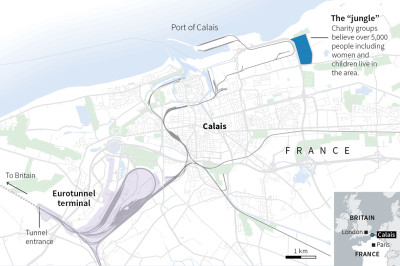 In February and March this year, the southern half of the Jungle camp was demolished by French authorities. This left thousands of people without shelter. Now, many have dispersed and are making regular attempts to climb their way onto vehicles which are heading there by ferry and rail tunnel. Seven refugees have been killed on the road this year.
According to authorities, there are roughly 7,000 people living in the remaining northern half of the camp, up from 4,500 in June. However, humanitarian groups say that the number closer to 9,000. Shelters and welcome centres have been set up by authorities, who have pledged to build more and increase the number of police officers to help manage the crisis.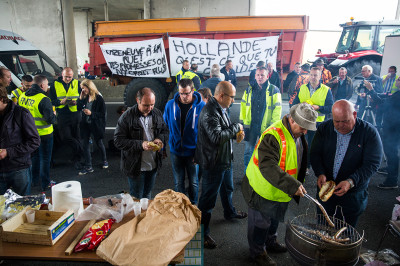 Aid groups have warned that a hasty closure of the camp would cause those living there to scatter and would ultimately aggravate Calais troubles and worsen the humanitarian drama. Yet while the camp conditions are dismal, people have access to food distribution and showers. The majority of makeshift shops and restaurants have been closed by authorities who want to destroy all 72. The state is appealing a court ruling saying the commerce cannot be destroyed.