Burning Man 2016: Thousands gather to build 'temporary metropolis' in Black Rock City
Around 70,000 people attend the week-long rave in the Nevada desert each year.
In the dusty Black Rock desert of Nevada, around 70,0000 people from all over the world gathered for the 30th annual Burning Man festival. The theme this year is Da Vinci's Workshops, inspired by the Italian Renaissance of the middle 15th and early 16th centuries. Money is outlawed and participants must bring everything they need for the week-long rave, once described as "where Mad Max meets Woodstock".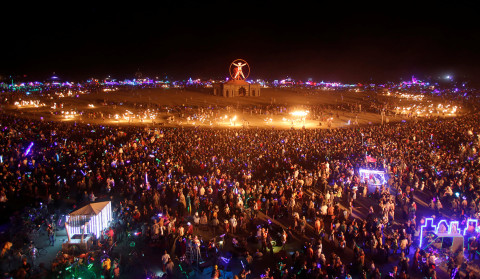 Running from the 28 August-5 September, revellers are invited to join in the effort to co-create Black Rock City, a "temporary metropolis dedicated to the arts and community". Everything that happens at Burning Man is created entirely by its citizens, who are active participants in the experience. Reuters photographer Jim Urquhart has documented the week-long event. IBTImesUK takes a look at some of this year's most memorable moments: