A church and a mosque have been torn down at the "jungle" camp in Calais. The places of worship were demolished along with the shelters of a pastor from the Eritrean church and those of several vulnerable women who had made camp near the building, as the congregation looked on in shock.
The bulldozers moved in at around 9am on 1 February, despite previous promises from police that religious buildings and a school situated inside the "buffer zone" created between the camp and the motorway to the ferry port would not be touched.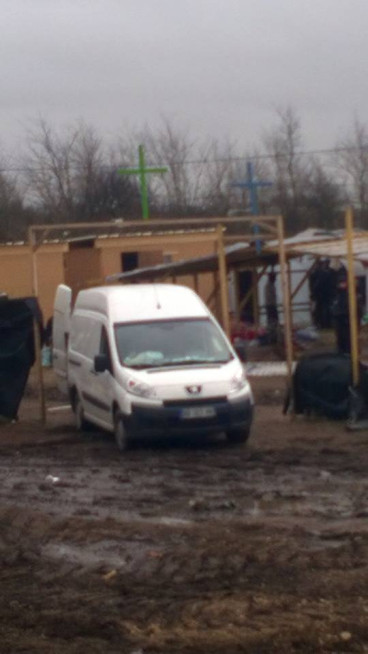 Tanya Freedman, a spokesperson for Help Refugees, who spoke with her colleagues who were at the camp, said: "About two weeks ago, when they came and marked out the buffer zone, they marked out a much greater area than was initially suggested.
"They said the church, mosque and school could remain, and they took the other shelters away a fortnight ago. Then out of the blue this morning, they came armed with bulldozers and said they were taking it down."
The so-called buffer zone saw hundreds of shelters torn down several weeks ago, with their inhabitants relocated to old shipping containers to make way for the space.
Although the school is still intact, and the charity has been told it will not be the next victim of the bulldozers, the two places of worship were ripped apart.
"They came and annihilated the church," Freedman said. "The mosque was gone at 9am. "People have said that the mood of the residents of the camp is [of] overwhelming sadness but they have reacted with dignity."
Residents are believed to have salvaged some of their shelters during the workmen's lunch break, moving the shelter of some of the women as well as the pastor out of the path of the bulldozers.
It is thought they were given next to no notice to save their homes and belongings, with the pastor reportedly refusing to remove the cross from the top of the church when the demolition crew came.
"It's difficult especially when they were promised this would not happen," Freedman said. "When they do something like this, it damages trust. The residents of these shelters have already fled their own homes, and now they have watched these shelters been torn down in quite a brutal way."