About 500 migrants and refugees have been moved out of their makeshift accommodation to another part of the Calais camp known as The Jungle, after an injunction by French police to free a 100-metre stretch along a nearby road. Residents have had to pack their bags, fold up their tents and take their belongings to a nearby site. Volunteers also helped to move rickety shelters by loading them on trailers.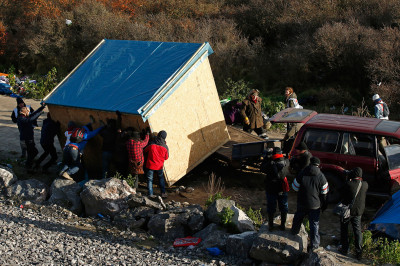 The camp has been hit hard by winter rain, which has turned the ground into mud and created puddles that gather piles of rubbish. The Calais camp has evolved into a slum with shops, mosques and a church between the shacks and tents. Up to 6,000 people were staying there in the autumn, though the number has decreased recently. Authorities are cautious not to allow housing to attract more migrants. The goal is to reduce the population of The Jungle to 2,000, while security has been tightened at the port and Channel tunnel.
The French port city has opened shelters in shipping containers for 1,500 people previously living in tents and makeshift shelters. Not everyone in the camp is overjoyed about the shiny new containers. "To stay here or move to the containers is the same for me," said Ahmed Alhamad, a Syrian. "I want to seek asylum in Britain."