Calais migrant chaos: David Cameron calls for better Italian checks after 'unacceptable' scenes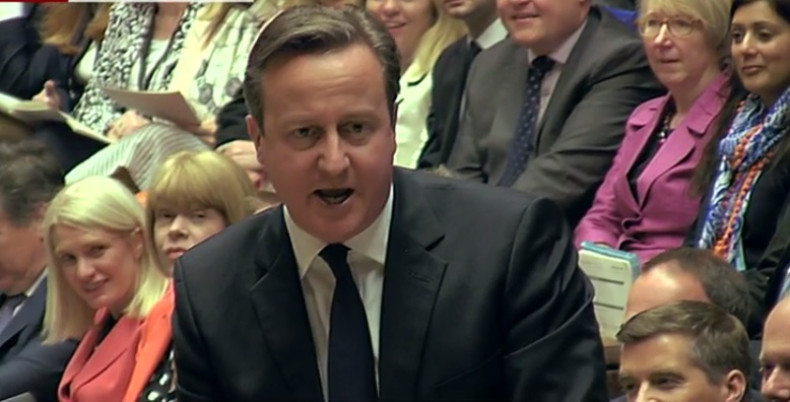 David Cameron has called on Italy to improve the documenting of migrants who arrive on its shores after chaotic scenes broke out in Calais.
The French port was gridlocked on 23 June after striking MyFerryLink workers conducted a blockade and dumped burning tyres on to train tracks used by Eurostar in a protest over job cuts.
Addressing MPs in the House of Commons, the prime minister described scenes of migrants breaking into UK-bound lorries as "totally unacceptable" and said more must be done by the Italians.
"Of course we want to see migrants better documented and fingerprinted but that needs to happen in Italy, where they land," Cameron said in House of Commons.
"We have to break the link between getting in a boat and getting settlement in Europe," he added, and make the UK a "less easy place" for illegal migrants to work.
Cameron said the UK's partnership with France on the issue of Calais remained strong and said he was willing to invest in security precautions at the French/UK juxtapose, including more fencing around the port and next to train lines used by Eurostar.
'More work, better pay, lower tax'
The government has yet to outline where £12bn ($19bn) of welfare savings will be made but tax credits are one area Cameron and Chancellor George Osborne could shave funding.
Under questioning from acting Labour leader Harriet Harman, Cameron denied he was, in her words, "robbing children" by cutting tax credits.
He instead blamed the Labour government that "didn't budget for the country" and said his plan was to get more people working, alongside a higher rate of pay and lower taxes.
Cameron added: "What we need to do is make sure we are going on with our plan that has seen 2.2 million more people in work and 390,000 fewer children in households where no one works."