David Cameron is to chair a meeting of the emergency Cobra committee today (31 July) as the Calais migrant crisis continues to cause disruption to tourists and trade across the English Channel. French police have been dispatched in an effort to stop migrants using the Channel Tunnel to access the UK and last night reportedly had to use tear gas to stop the would-be stowaways.
The prime minister, who has returned from his trade tour of South East Asia, will discuss with top ministers and security officials how the UK will respond to the situation. The Tory leader came under fire yesterday (30 July) after he described the migrants, many of whom hail from Syria, Libya, and Eritrea, as a "swarm" during an interview with ITV News.
"This is very testing, I accept that, because you have got a swarm of people coming across the Mediterranean seeking a better life, wanting to come to Britain because Britain has got jobs; it's got a growing economy, it's an incredible place to live. But we need to protect our borders by working hand in glove with our neighbours the French, and that is exactly what we are doing," Cameron said.
The prime minister is expected to make a public statement after the Cobra meeting today as Operation Stack, which has seen thousands of lorries queueing on the M20 as they attempt to travel to the continent via the Port of Dover and Eurotunnel. Kent Police gave an update on the operation this morning (31 July).
"The M20 between junctions 9 and 8 London bound has now been reopened to all traffic but Op Stack is expected to last into the weekend. There is no access to the coast-bound A20 from the A260 (M20 junction 13). Freight traffic should proceed to junction 8 (Hollingbourne) coast-bound using lane one and join the Op Stack queue. Anyone travelling towards the east of the county is reminded to ensure they bring plenty of food and drink and expect delays," the police said.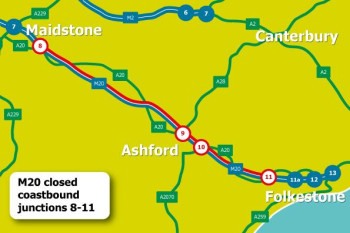 The Ministry Of Defence have reportedly been asked to look into plans to use the department's land to help alleviate the traffic chaos. A source told the Daily Telegraph that land around Folkestone could be temporarily used to house the lorries.
A Number 10 spokeswoman told IBTimes UK that the prime minister will make a public statement after the Cobra meeting and explained "all options would be discussed" at the emergency committee.