Undeterred by French riot police, a surveillance helicopter, or a ninth death this summer, migrants continue their attempts to stow away on Channel Tunnel trains heading to England from Calais. The desperate people pressing north through Europe are mostly refugees fleeing war, dictatorship and poverty in Africa and the Middle East. "Calais is a mirror of conflicts tearing up regions of the world," French Interior Minister Bernard Cazeneuve said.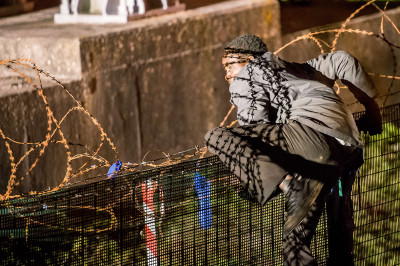 Those caught on the French side are generally immediately freed to return to local makeshift camps and try again. Those caught on the in British side may be detained while their applications for asylum are considered. But many stay hidden aboard trucks as they roll off the trains until they stop for fuel, then hop off and vanish.
It is not clear how many reach Britain, although at least a few succeeded in stowing aboard trains to make the 35-minute trip. British Home Secretary Theresa May said "a number" of migrants made it through. Emmanuel Agrius, the deputy mayor of Calais, said: "Smugglers sell migrants the notion that Britain is the only El Dorado for a better life."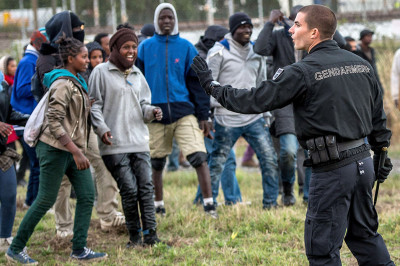 Freight and passenger traffic through the rail tunnel has been severely disrupted as migrants tried to board trucks and trains travelling from France to Britain. The delays caused mayhem for truckers on both sides of the Channel. Cargo trucks were backed up overnight in Calais for several kilometres. British police, meanwhile, turned parts of a highway near the UK end of the tunnel into a giant parking lot. Passenger service was also delayed.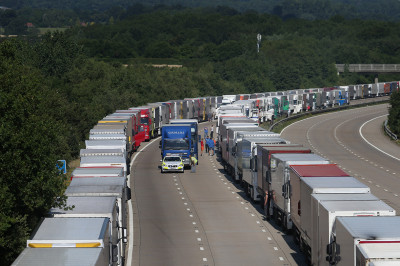 The crisis has turned into a blame game with Eurotunnel, the French government and British authorities all saying the others are not doing enough. France's government called on Eurotunnel to step up its protection. The company defended its efforts, saying it had blocked more than 37,000 attempts since January. Eurotunnel called for help from both the French and British governments to protect the site and its 23km perimeter.
"It's become a phenomenon which is beyond our means," Eurotunnel company spokesman John Keefe said. "We're just a small transport company operating in a little corner of Europe."
France has deployed 120 more police officers to the site while Britain has agreed to provide an extra £7m ($11m) of funding for measures to improve security at Calais, including erecting a 3m fence to protect the terminal.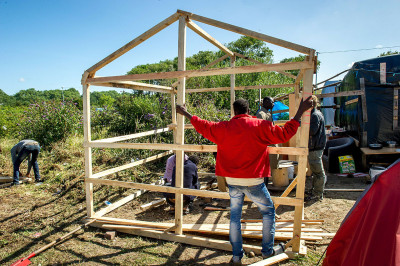 In Calais, an Eritrean man returning from a night of trying to cross the Channel told AP he planned further attempts to reach England. "[We] come here and tomorrow, inshallah, try again."