Kasam has been living in The Jungle camp in Calais for three months. He left his home the Darfur region of Sudan four months ago, travelling overland to Libya before being paying smugglers €2,000 (£1,400, €2,195) for a place on small plastic boat that carried about 125 people to Italy. He hopes to travel to London to study. Fikrte, who comes from Ethiopia, also hopes to study in the UK. She left her home country six years ago, living in Kenya and Lebanon before paying smugglers about €1,500 to travel by boat to Greece.
Neither of them wants to stay in Calais. Like many of the migrants here, they have only one thing on their mind: leaving.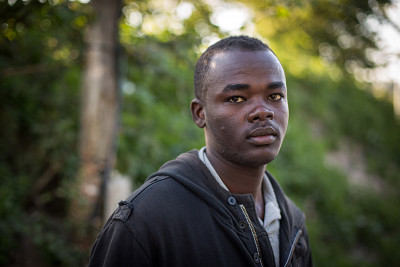 For thousands of migrants, Calais is the penultimate stop in a treacherous journey that often includes a stint in chaotic Libya and a perilous Mediterranean crossing to Italy. Calais hosts refugee camps in the dunes and wooded areas around the port and the Channel tunnel. The camps started to go up after the 2002 closure of a hangar in nearby Sangatte that housed thousands of migrants.
Mayor Natacha Bouchart managed to get the French government to set up a relief centre outside town, where a huge encampment has sprung up. The centre provides showers and a daily meal, while reducing migrant traffic in the city.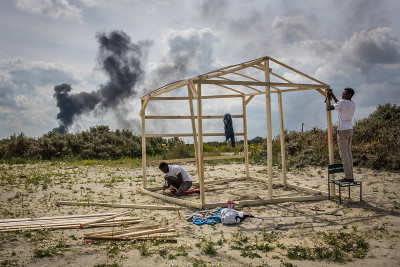 However, not everybody wants to leave. Some have applied for asylum in France, and attend French lessons every day in a makeshift classroom in The Jungle. They are frustrated that media coverage focuses only on those who try to board cross-Channel lorries or trains every night.
Photographer Rob Stothard, who spent several days at the camp, told IBTimesUK: "While the majority of people in the camp are actively attempting to stow away to the UK, many have tried to make life as comfortable as possible inside the camp; the Orthodox church lovingly built and managed by Ethiopian and Eritrean Christians, Afghan run shops, there are meetings run by activists, places to play cards or get a hair cut, some semblance of community."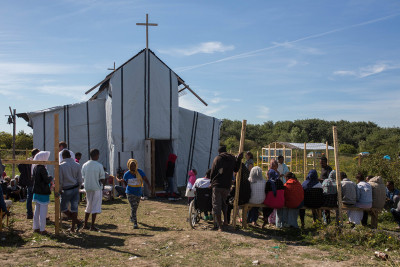 Yet many do dream of a life in Britain, and can't understand why they are turned away. Stothard told Time magazine: "They grew up learning English, and yet they are not allowed to go to a place where they can speak that language. Why would they go to Germany, for example, if they don't speak the language and can't be of use there?"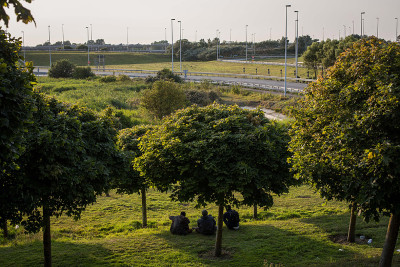 British prime minister David Cameron faced criticism for using the word "swarm" to describe the migrants trying to get into Britain through the Channel Tunnel. "You have a swarm of people coming across the Mediterranean, because Britain has got jobs," he told ITV News. The Refugee Council called it a "dehumanising" use of language.
As Debroah Doane wrote in a recent IBTimesUK article: "This tosh about a 'swarm' of migrants, couldn't be further from the truth. About 31,000 people applied for refugee status in the UK in 2014. Sweden, which has a population of less than 10 million, had 54,000 applications. Germany had 126,000. This is no swarm, this is a trickle.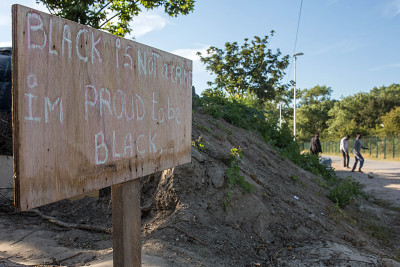 So far this year, more than 80,000 migrants have come ashore in Italy, with a similar number arriving in Greece. The European Commission has called upon all member countries to participate in a scheme to relocate thousands of refugees from Greece and Italy. Britain has declined to take part.