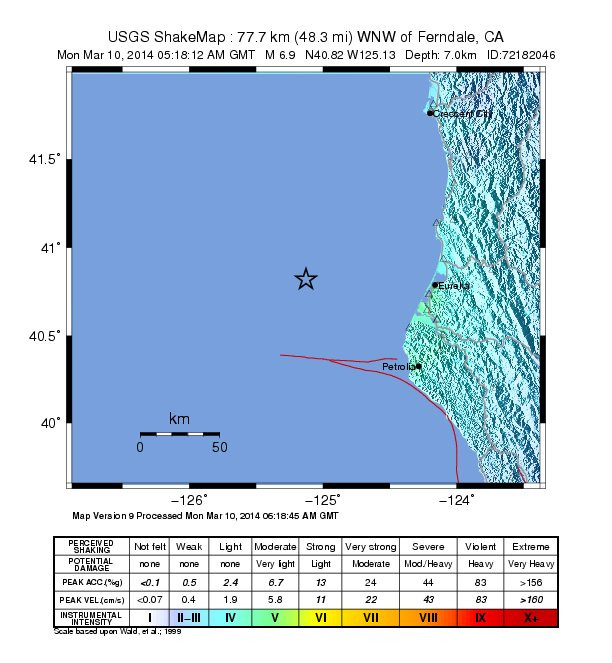 "Strong and possibly damaging aftershocks" are expected to hit California this week following Sunday's earthquake, geologists have warned.
The US Geological Survey (USGS) is warning there is a 90% probability of a strong aftershock of a magnitude five or more in the next seven days after a 6.8 magnitude earthquake struck on Sunday evening beneath the Pacific.
The USGS are also predicting a 5% to 10% chance of a quake on the same scale as Sunday's tremor
Sunday's big quake at 10.20pm was followed by a series of at least 13 aftershocks with a magnitude of 4.6. More than 3,000 people, including some in Oregon, reported on the USGS website that they felt it, some who experienced it as far as San Francisco, located 250 miles away.
It was the largest earthquake on the West Coast since the 7.2 Baja California quake in 2010.
Luckily, no injuries or damages were reported.
"We had some alarms go off and other than that we dodged a bullet," a lieutenant with the Humbolt County sheriff's office told the Eureka Times-Standard.
"This very easily could have been a catastrophe that could have caused a lot of damage."
The National Tsunami Warning Center said there was no tsunami danger for the region.
Raquel Maytorena, 52, who lives about a mile from the coast in Ferndale near Eureka, told The Los Angeles Times it was the longest earthquake she had ever felt.
She said: "It just kept going and going, very slowly and softly. It was not violent. It almost felt like you were in a boat that was rocking."
Earthquakes are very common in Eureka, a city of about 27,000 people about 270 miles (435 kilometres) northwest of San Francisco.