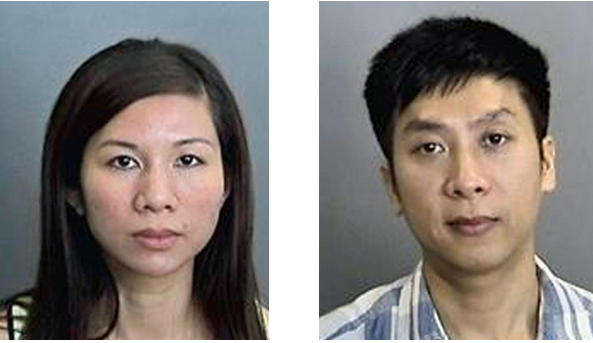 A Vietnamese couple living in California have been arrested for allegedly keeping their autistic 11-year-old son in a cage normally used for pets.
Loi Vu, 40, and Tracy Le, 35, were arrested after Orange County Social Services received information that a child was being kept inside a dog kennel.
Although Anaheim Police officers did not find the boy in the cage, family members had given police varying accounts him being kept in the kennel.
Time spent in the cage ranged "from several years to several months to several hours", police spokesman Bob Dunn said.
Police took the boy, who is unable to speak, and his two siblings -- aged 8 and 10 -- into custody.
According to NBC4 neighbours were shocked by the arrest.
"I hear the kids screaming, laughing and playing out there but... I assumed they were just playing," said neighbour Kathy Johnson.
Another said the family appeared to be happy and the boy healthy.
The cage, with a mattress inside, was just big enough for the boy to not be forced into an "unnatural position," Dunn said, adding that he was well nourished and had no visible injuries.
"Perhaps because of some of the outbursts that occurred because of his autism... the family was having difficulty coping with that," Dunn told KTLA television. "Putting him in that cage may have been a way for them to try to, in their way, control what was going on.
"Other than perhaps living in that cage, there was no other signs of any type of abuse that were visible to the officers."
Autism experts said they were shocked by the news, but also saddened.
"Maybe they didn't have the skill set or the tools or support to know how to address his behaviours and were helpless," said Peter Thach. "Maybe they resorted to that very desperate situation where they used a cage."
He said a language barrier and access to resources may have prevented the family from asking for help.
The police is to investigate further. The parents speak very little English and an interpreter will be used during interviews.