Fast-moving wildfires raging across Northern California's wine country have killed at least 17 people, left about 150 missing and destroyed 1,500 homes, plus hotels, shops and some of the region's famous wineries.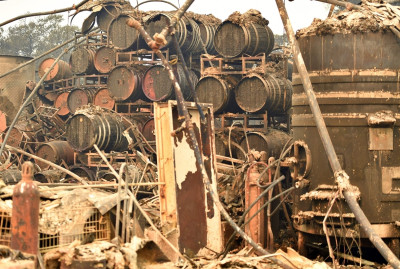 At least four wineries had suffered "total or very significant losses," and at least nine reported damage to their winery, outbuildings or surrounding vineyards. But even the grapes that were spared by the flames may be affected by the thick smoke hanging over Sonoma and Napa counties. Wine connoisseurs may find some of the 2017 vintage to be a bit smokier than usual on the palate.
The wildfires came towards the end of the grape harvest, while up to a third of the crop remains of the wines. Those fully ripened grapes, if exposed to sustained heavy smoke, would be especially vulnerable to contamination by the pollutants, said Anita Oberholster, a professor of viticulture and enology at the University of California at Davis.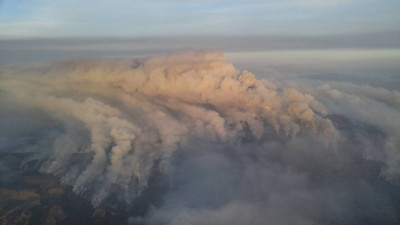 What the industry calls "smoke taint" occurs when smoke is absorbed into the plant and concentrates in the fruit, altering a grape's chemistry, and ultimately its taste and aroma – and not in a good way."It can have a severe smoke aftertaste. In really bad cases, it can really have the taste of an ashtray," Oberholster said. Others have described smoke taint as having the aroma of burning rubber tyres or charred meat.
Red grapes are more susceptible than white because white wine is produced with less contact from the grapes' skin, where the smoke-induced compounds accumulate. Experts said those compounds, which bind to sugars in the grape, persist after bottling and intensify as the wine ages.
Oberholster said roughly a third of the grapes in the overall fire region remained to be harvested. But the Napa Valley Vintners association said 90 percent of the fruit raised by its 550 members was already picked. The group also said that most grapes still on the vine were Cabernet Sauvignon, a thick-skinned variety it hopes would be at relatively little risk.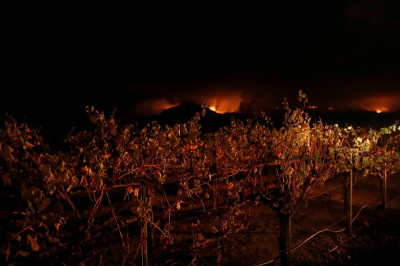 Napa, Sonoma and adjacent counties collectively account for 12 percent of the wine produced throughout California, but they are home to the state's most highly prized grapes. Retail sales of California wines total nearly $32 billion (£24bn) a year and the state ranks as the world's fourth leading wine producer after France, Italy and Spain, according to the Wine Institute's 2015 economic survey.
Conditions were ripe for wildfires in California wine country after record rains last winter created an abundance of vegetation, which combined with low humidity and unusually high winds gusting to 79 mph to create fast-moving infernos. California's most dangerous wildfire season comes in autumn, when summer heat and insects have left brush dead and dried out, and winds are especially hot, dry and strong.
"This is traditionally California's worst time for fires," said Ken Pimlott, California's top firefighter. He said investigators are looking into the cause of the fires, but no determination has been made yet. He said "98 percent" of all wildfires are started by people and it's unlikely lightning is to blame for any of the fires.
A carelessly discarded cigarette, a downed power line, a car's backfire or a chainsaw's pull, just about anything could have started any of the wildfires."Every spark is going to ignite a fire," Pimlott said. He added that the risk remains "extreme for new starts."
North of San Francisco, the fires reduced houses to ashes in several communities. The city of Santa Rosa was particularly hard hit by the so-called Tubbs Fire, which damaged a Hilton hotel and destroyed a mobile home park. Tens of thousands of residents were forced to flee, as schools closed and at least two hospitals in Sonoma County were temporarily shuttered.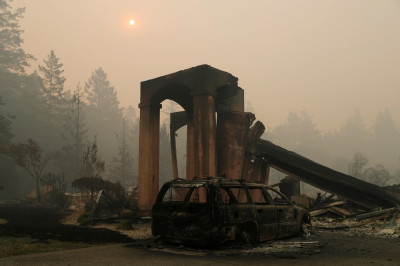 None of the major fires has been contained. They are spread over a 200-mile region north of San Francisco from Napa in the south to Redding in the north, taxing firefighting resources. These fires come after Los Angeles suffered its largest wildfires in history in September.