By day and by night they come, an endless tide of humanity streaming out of Myanmar into Bangladesh. Wading through deep water, trudging through muddy rice fields, an unbroken line of men, women and children fleeing unknown horrors and hoping to find sanctuary in one of the poorest regions of a poor country.
More than 11,000 Rohingya refugees arrived in Bangladesh on Monday (9 October), in a sudden surge from a daily average of about 2,000.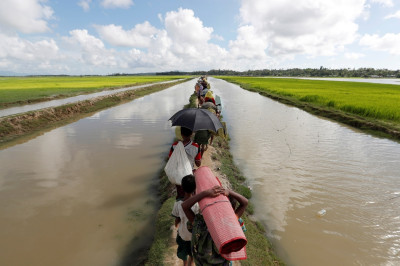 Many of the refugees are reported to come from the Buthidaung area in Myanmar's northern Rakhine state, which is 20-25 kilometres east of Maungdaw.
"Some said they had fled torching and killings back home; one boy was seen with a big gash across his neck," Adrian Edwards, spokesman for the UN High Commissioner for Refugees (UNHCR), told a news briefing in Geneva. "We don't know at the moment what is driving this," he added. "Some of these people have fled their homes several days ago and in some cases two weeks ago, so they moved toward the border before coming across."
There are also indications of more recent problems. "As you may have seen from media reports which I can't verify, but there are reports about fires being seen close to the border (and) other problems there," Edwards said.
Journalists and other outside observers have been unable to independently travel to the northwest of Myanmar's Rakhine state since the outbreak of violence last year. The UN and aid groups had to suspend operations in the area following government accusations of supporting insurgents.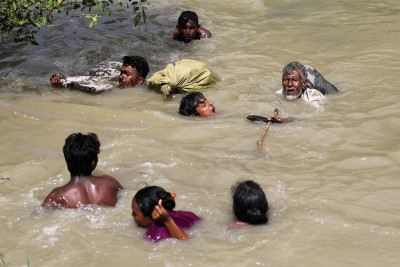 Waves of Rohingya Muslims have crossed over to Bangladesh since 25 August, when security forces in Buddhist-majority Myanmar responded to militant attacks with a broad crackdown that the UN has described as "textbook ethnic cleansing."
In the southern parts of Bangladesh they have joined hundreds of thousands of Rohingya who were already living in miserable conditions in tightly packed camps. Now with hundreds of thousands more people, the pressure on what little resources the old camps had is incredible.
Entire new towns of shanties have sprung up across the area. Clean water and toilets are a rarity and there are fears that diarrhoeal diseases such as cholera will spread. The World Health Organisation (WHO) has begun distributing 900,000 doses of cholera vaccine, as authorities rush to prevent a major outbreak of the deadly disease. More than 10,000 cases of diarrhoea have been reported in the past week alone, WHO said.
Bangladesh and international humanitarian organisations are scrambling to provide life-saving food, water and medical care to the more than half a million traumatised people who have arrived since August – as well as the 300,000 refugees who had fled previous bouts of violence. Simply finding enough empty land to accommodate the refugees is a huge problem.
"The government allocated 2,000 acres when the number of refugees was nearly 400,000," Mohammad Shah Kamal, Bangladesh's secretary of disaster management and relief, told Reuters. "Now that the numbers have gone up by more than 100,000 and people are still coming. So, the government has to allocate 1,000 acres (400 hectares) of forest land." Once all the trees are felled, aid workers plan to put up 150,000 tarpaulin shelters in their place.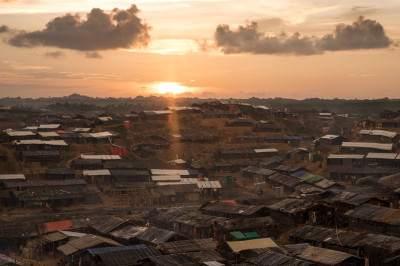 "Nothing comparable, in terms of the number of people arriving in such a short space of time, has happened since 1994 in Rwanda," said Christopher Lom, Asia-Pacific spokesman for the International Organisation for Migration (IOM).
At the overcrowded camps, refugees have to make long treks and stand in long lines for hours to collect food rations distributed by aid agencies daily. Incessant rains have compounded the miseries of Rohingya, many of whom have no real shelter. Panic sometimes erupts if supplies run out. Unofficial aid distributions are often carried out by locals in Bangladesh, who pile bags full of donated supplies, including clothes, on the back of the trucks and then throw them out.
UN-led aid bodies have appealed for $434 million (£330m) over six months. Aid organisations say they are ramping up their relief operations, but the sheer numbers and the enormity of the task make it almost impossible to reach out to every single person. "Bangladesh alone can't handle this. The international community must rally," David Beasley, head of the UN's World Food Programme, said after observing a handout of food to refugees at Kutupalong camp.
"We need support from around the world because you're talking about a literal humanitarian disaster," Beasley said. "If we don't get the support we need, from health care to proper nutrition and safe water and sanitation and sheltering, this could explode into a catastrophic humanitarian disaster."
Aid agencies have warned of a malnutrition crisis among the hundreds of thousands of Rohingya refugees in Bangladesh. About 281,000 people in Bangladesh are in urgent need of food, including 145,000 children under five and more than 50,000 pregnant and breast-feeding women. "Nearly 90 percent of them have informed us that they are living on one meal per day," said Sakil Faizullah, communications manager for Unicef.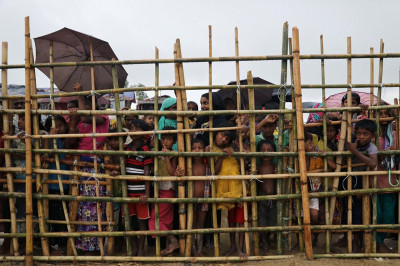 More than 520,000 Rohingyas have fled Myanmar since 25 August when attacks by Rohingya militants on security posts in Rakhine State sparked a ferocious military response. Refugees and rights groups say the army and Buddhist vigilantes retaliated by engaging in a campaign of killing and arson aimed at driving the Rohingya out of Myanmar.
Myanmar rejects accusations of ethnic cleansing and has labelled the militants from the Arakan Rohingya Salvation Army (ARSA) who launched the initial attacks as terrorists who have killed civilians and burnt villages.