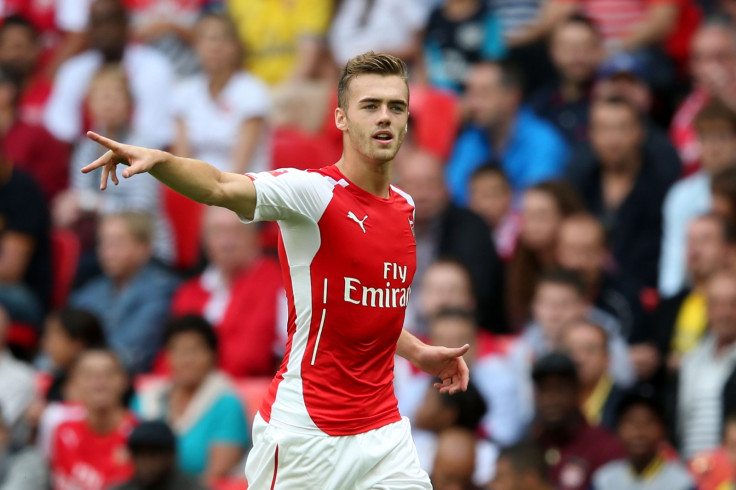 Arsenal defender Calum Chambers has said Arsene Wenger's trust in youth was the main reason he chose to move to the Emirates Stadium from Southampton in the summer of 2014. The 20-year-old England international says he has no regrets over the move, despite struggling to establish himself as a permanent first team fixture since his arrival.
Chambers made a £16m ($24.2m) transfer from the Saints, following in the footsteps of other Southampton academy starlets such as Theo Walcott and Alex Oxlade-Chamberlain. Having only played 22 Premier League games with Southampton, the move seemed a high-price gamble, but Chambers says he knew he would be able to prove his worth under Wenger.
"It was a massive factor," Chambers said to the Arsenal podcast. "Theo and Alex came from Southampton as well, and they've both come through to the first team. He's renowned for bringing young players through and developing them. That was a big factor in why I chose to come here, to work with him. I haven't regretted it one bit."
The defender enjoyed an impressive start to the life at the Emirates Stadium, replacing injured Per Mertesacker and earning an England call-up. He saw his playing time restricted during the second part of the season and has started the new campaign as the fourth-choice centre-back behind Mertesacker, Laurent Koscielny and Gabriel Paulista.
But Chambers is delighted with his life at the Emirates Stadium and believes he has improved leaps and bounds since his arrival thanks to Wenger's advice.
"I'd probably say the best piece of advice the boss has given me is just to relax and enjoy myself in games. Before the game or at half-time he would tell me to relax, to just play with confidence and enjoy it. I probably think that's the best advice he's given me because it helped me in my game. I can then relax, go onto the pitch and express myself, which is useful.
"He's improved me massively. Over the past year I think I've improved in my game a lot. He goes through little things with me on the pitch and individual stuff. He gives me advice so over the past year my game has improved massively."