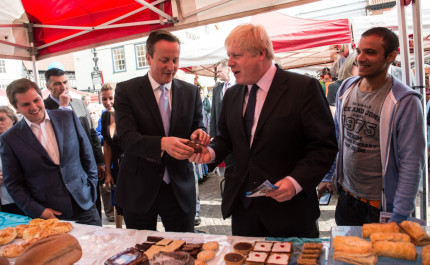 David Cameron is under increasing pressure to live up to his claims of transparency and reveal details of large private donations to his party including those from pro-Russian lobbyists.
While the Tories have been attacking Labour for its financial links with the Unite union, it has emerged that one lobbying firm which donated £85,000 to the Conservative party before the last election represents prominent and wealthy Russians.
According to the Independent newspaper New Century Media, headed by former Ulster Unionist MP David Burnside, also acts for the personal foundation of the Ukrainian billionaire Dmitry Firtash, who has been indicted on bribery and corruption charges, which he denies, in the United States.
It has also paid for ministers to be their guests at Conservative events where they could be introduced to clients.
The most recent of those was the annual summer ball at the Hurlingham club which saw the usual line of limos and Rolls Royces with blacked out windows bringing guests to the bash attended by Cameron, chancellor George Osborne and a host of senior ministers and party figures.
The newspaper has reported that New Century was able to invite guests at around £400 a head to the ball for several years, including this year's event.
Elsewhere it has been revealed that a game of tennis with Mr Cameron and Boris Johnson was auctioned off for £160,000 at the event to banker Lubov Chernukhin, wife of Vladimir Chernukhin, a former Russian deputy finance minister under Mr Putin.
The Bureau of Investigative Journalism has stated that Cameron's elections guru, Lynton Crosby, and party chairman Lord Feldman were offered up as ball boys for the game by Foreign Office minister Hugo Swire, who carried out the auction.
According to the Guardian newspaper a bottle of champagne signed by Margaret Thatcher sold for £45,000 while a "fantastic eight-gun pheasant shoot" at Tusmore, the Oxfordshire estate of the Syrian-born billionaire, Wafic Said, allegedly sold for £80,000.
It was claimed the auctioneer, foreign office minister Hugo Swire, put up a jar of honey made by his own bees, saying he wanted it to become the most expensive pot of honey ever sold and raised £15,000.
Last year, two prominent Russians with connections to the Kremlin, including one of Vladimir Putin's judo partners, Vasily Shestakov, and the billionaire businessman, Andrei Klyamko, were said to have been invited to the event by New Century. Both were photographed chatting to Mr Cameron at the event.
The annual Tory event has always attracted controversy but, under current rules, no guest list has to be published and the party has always refused to name names.
Labour has demanded to know who was at the event claiming the secrecy flies in the face of Cameron's claims to transparency.
Party officials insist the event was private and no guest list needs to be published. It is also stressed that any donations to the party are declared in the proper way.