UK migration: David Cameron warns influx to Britain not sustainable during EU negotiation tour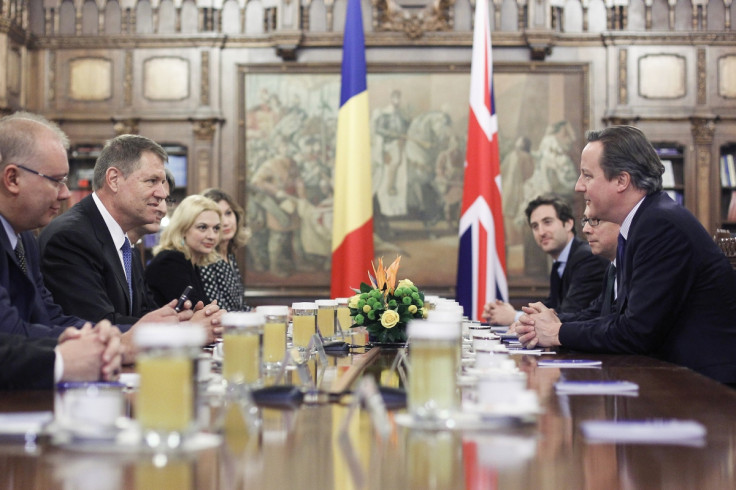 Prime Minister David Cameron has warned that the current level of net migration into the UK is "not sustainable" as he continued his drive to cut migrants' benefits. The restrictions to in-work benefits is one of Cameron's four key renegotiation goals as he aims to keep Britain in the EU.
However, it is a contentious issue with EU member states, including Poland and Romania, who say the move may discriminate against their citizens. The president of the European Council, Donald Tusk said there is little chance of Cameron getting his way on the matter in a Brussels meeting with his EU counterparts next week.
"We have no consensus," Tusk was quoted as saying. "In fact, 27 member states are very sceptical. Indeed, they are against. Cameron will not be satisfied 100%, that's for sure," said Tusk according to a Telegraph report.
Cameron was in the Romanian capital Bucharest for talks with president Klaus Iohannis as part of a two day trip to eastern Europe and said he is confident of striking a deal in each of his renegotiation demands. He did concede that "some areas are more difficult than others, particularly the reforms I have proposed on welfare".
Net migration is not sustainable
"I want Britain to stay in a reformed European Union," Cameron said following his talks with the Romanian president on 9 December. "That's why I am seeking important reforms to address the concerns of the British people about the status quo."
Cameron acknowledged that "Romanians, alongside other Europeans, make a valuable contribution to the United Kingdom in a wide range of fields, from finance to science and medicine."
However, he added: "Net migration in the UK is running at well over 300,000 a year and that is not sustainable. So we do need to find ways to allow member states to make changes to their social security systems that will help them to deal with this issue."
"It was never envisaged that free movement would trigger quite such vast numbers of people moving across our continent", Cameron said in Bucharest. He added that "countries have got to be able to cope with all the pressures that can bring - on our schools, our hospitals and other public services."
But Cameron did say that he does "support the principle of free movement to work - it is a basic treaty right and a key part of the single market." On 8 December, Sir Stephen Nickell, an ONS economist told the Treasury Select Committee that Cameron's push to ban EU migrants from claiming benefits for four years is likely to have little impact. "Changing the benefit rules for EU migration so that they become more difficult to obtain - you are asking me what impact that is likely to have. In my opinion: not much," Sir Stephen said.
As the heads of the 28 Member States prepare to meet in the Belgian capital next week to discuss Cameron's reform agenda, Brussels is looking at ways to slow immigration should public services become swamped. The emergency move could give Britain and other EU countries the option to restrict free movement in circumstances where it is warranted by public security or public health, according to a Financial Times report.
Mocking Cameron's diplomatic visits as a "seemingly endless renegotiation tour" in the House of Commons on 9 December, shadow business secretary Angela Eagle quipped: "He has been jetting all over the place, no wonder we had to buy him his own aeroplane." Meanwhile, Chancellor George Osborne claimed that the Conservatives were "fighting for a better deal for Britain in Europe".
© Copyright IBTimes 2023. All rights reserved.