How many radio-controlled cars does it take to tow a pick-up truck? Don't worry, the AA isn't trialling a new roadside recovery policy – it's a stunt from Toyota where a fleet of RC toys performed the feat of pulling a 3-tonne full-size vehicle.
In a challenge called, The Pull, Toyota pits the power of Tamiya's iconic Bruiser toy car against its Hilux Invincible Double Cab, which weighs in at 3.21 tonnes. The result is quite extraordinary. It echoes a similar stunt performed by the company back in the 1980s where an original Hilux was towed by the same model of RC car at Tamiya's offices in Japan.
Tamiya Bruisers, which were based on original Hilux design, are 1:10 scale size and are famous for being able to generate 2kg of pulling force. Fifteen of the miniature trucks were attached to the Hilux and, despite their diminutive size, they were able to exact enough power to tow the full-size truck, complete with driver inside.
The video shows the fleet of Bruisers all straining against the load like a pack of sled dogs, little wheels struggling for traction, until the Hilux starts creeping forward and they manage to pull it completely out of a hangar in Bicester, Oxfordshire.
Sceptics will be surprised to learn no trickery was involved. All the team had to do was ensure the tyres of the Tamiya cars were inflated to their maximum pressure, set to a low ratio transmission and with two 500g diving weights placed on the back of each. The pull was also achieved on a flat surface. All this was enough to combine for a 30kg of force to get the truck rolling.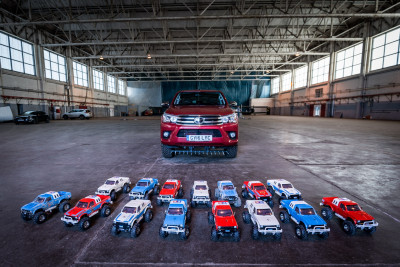 The feat was filmed for promotional purposes to highlight the well-known strength of the Hilux vehicle.
Scott Brownlee, Toyota GB's head of press and social media, said: "These films put a new, fun perspective on the toughness and reliability that have made the Toyota Hilux a motoring legend and Tamiya's Bruiser one of the world's best-loved radio-controlled cars. They show how skillful engineering and lasting, robust build quality are key to making ever-better cars, whether you are manufacturing a full-size pick-up or a model that's just one tenth the size."