Amazon's founder and CEO Jeff Bezos seems to be embracing the future, if his appearance at a conference in a giant robot mecha suit is anything to go by.
Bezos tweeted a picture of himself piloting the huge 13ft tall Method-2 robot on 19 March on stage at Amazon's secret invite-only conference MARS 2017, which is an "annual gathering of thought-leaders in machine learning, home automation, robotics and space exploration".
"Why do I feel so much like Sigourney Weaver?" Bezos says in a video clip captured by MIT's food of the future researcher Caleb Harper, one of the lucky attendees, as he tests swinging the robot suit's arms around.
The Method-2 is the world's first giant human-controlled bipedal robot that looks like something out of the sci-fi anime franchise Gundam or Hollywood blockbuster Pacific Rim.
Unlike the Kuratas from Japan or the MegaBots Mark 2 from the US, the Method-2 is built by South Korean firm Hankook Mirae Technology.
The Method-2 human-manned bipedal robot
Developed in a laboratory near Seoul, Method-2 is a collaboration between Hankook Mirae's engineers and Vitaly Bulgarov, the designer famous for Hollywood robot creations in films like the live-action remake of Ghost in the Shell, Terminator, Transformers 4: Age of Extinction and RoboCop.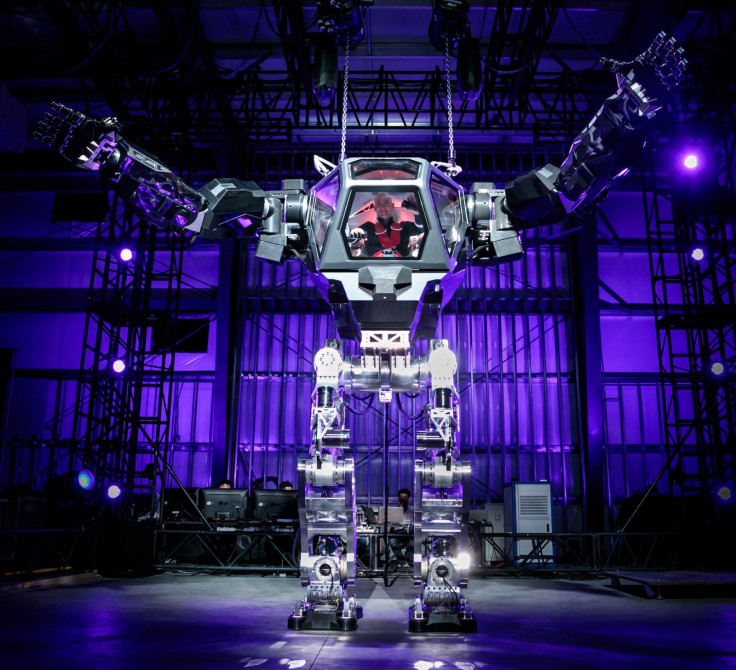 The robot weighs 1.6 tons and is made from heavy-duty metal to ensure it's strong enough to withstand going into environments that are hostile for humans, such as along the heavily fortified Demilitarised Zone between South and North Korea.
It first garnered media attention in December 2016 after Bulgarov shared a video of the robot on his Facebook page, but very few technical details have been released. At the time, the company said the robot was still rather wobbly on its feet and a lot more work still needed to be done to improve its internal balance and power systems.
This makes sense, as it is clear from the photo and video of Bezos that the Method-2 robot is stationary, secured in place by steel chains connected to the ceiling of the secret venue where the MARS 2017 conference took place.
Hankook Mirae says that the Method-2 will be ready for sale by the end of 2017, and it will likely retail at $8.3m (£6.5m). This is much more expensive than inventor Kogoro Kurata's Kuratas robot, a $1m three-legged12.5ft (3.8m) tall robot that weighs 5 tons and has a top speed of 10kph, or the MegaBots Mark 2, a Kickstarter-born invention that stands 15ft tall, weighs six tonnes and has a top speed of 193kph.
Still, if the robot lives up to its promises, then there's no reason why the Method-2 couldn't join the fight brewing between Kuratas and US-based MegaBots, whose creators hope to turn robot mecha suits into a new fighting sport.