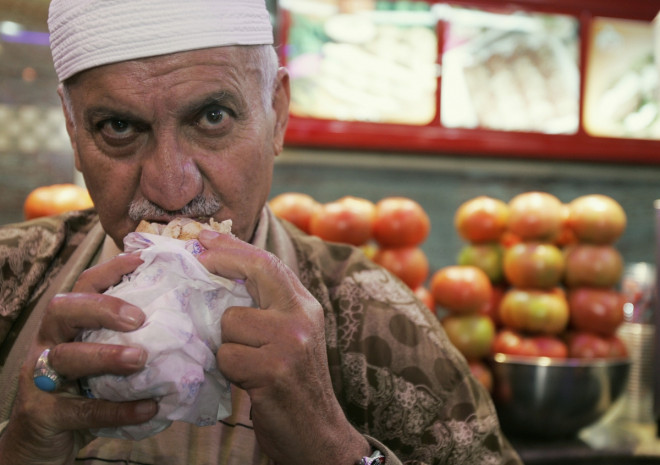 The Middle East has never been in the international spotlight like it is nowadays.
The fiery uprisings of 2011 caught the world's attention and have directed a spotlight on the economic imbalances throughout the region.
With journalists, analysts and politicians eager to understand the momentous shifts occurring from Cairo to Abu Dhabi, could there be answers hidden inside the humble falafel sandwich?
Forbes magazine thinks so, promoting the Falafel Index as an opening into region's economic and social status.
The Economist's Big Mac index does not quite work in the Middle East. The fast food chain is frequented by expats and wealthy Western-inclined locals but a Big Mac is a luxury meal that remains out of reach for most.
In a bid to show the purchasing power of citizens across the Mideast, Forbes has put together an index comparing the price of a falafel sandwich.
The most expensive place to get a falafel sandwich (consisting of deep fried chickpeas, tomato, lettuce and tahini) is none other than Tel Aviv, Israel, where it will cost you $4.62.
The cheapest falafel sandwich can be bought in Rafah, in the Palestinian Gaza strip, where it will only set you back $0.58.
The United Arab Emirates, Oman and Bahrain find themselves at the pricier end, while the likes of Syria, Jordan and Iraq are still cheaper.
So far, so interesting. Lunch is more expensive in wealthier countries throughout the region and cheaper in those with smaller economies.
The interesting bit comes when you compare the price of a falafel sandwich with average monthly gross domestic product. Forbes says "the relationship between a falafel sandwich on one hand, and income per head on the other, can be used to estimate the fair market value of a currency".
According to the Forbes study, the Saudi and Qatari currencies are undervalued against the US dollar. Indeed they are tied to the American currency and therefore will not shift according to organic market movements.
Moreover, Forbes' most interesting conclusion from falafelnomics is that the Israeli shekel is one of the most overvalued currencies in the region.
Indeed, Israel faced huge street protests in 2011 related to the high price of food in the country, which has some of the highest food prices in the economically developed world.
While there are many more factors to be considered when assessing Middle Eastern geopolitics, the price of a falafel could prove a handy barometer in the future.