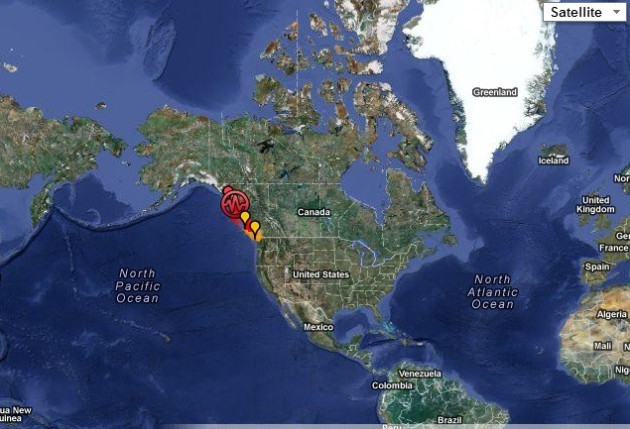 Tsunami warning has been issued for the coastal areas of British Columbia, southern Alaska, Northern California, Oregon, Washington state and Alaska after a powerful earthquake with a magnitude of 7.7 hit the coasts of western Canada.
"The tsunami warning continues in effect for the coastal areas of British Colombia and Alaska from the North tip of Vancouver Island British Columbia to Cape Decision Alaska/Located 85 miles do Sitka," said the National Weather Service, Alaska.
According to the US Geological Survey (USGS), the quake struck the Queen Charlotte Islands at 08.04 pm local time on Saturday (03.14 GMT, Sunday) with an epicenter 96 miles (155 kilometers) south of Masset, British Columbia. The USGS said the quake was followed by another aftershock measuring 5.8 magnitude and later with a 4.8 quake.
The Alaska Tsunami Warning Center has advised residents in the stretch from the northern tip of Vancouver Island to Cape Decision, Alaska to move to the higher grounds and to stay away from all harbours and inlets.
Meanwhile, the Pacific Tsunami Warning Center has issued a tsunami warning for the Hawaiian island and said it expects the first Tsunami waves could reach the island by about 22:30 local time (08:30GMT).
"A tsunami has been generated that could cause damage along the coastline of all islands in the state of Hawaii". Huge waves are expected in the areas such as Hilo, Kahului, Haleiwa and Hanalei.
"Urgent action should be taken to protect lives and property". Earlier teh center had ruled out tsunami threat to Hawaii.
No damages have been reported so far.