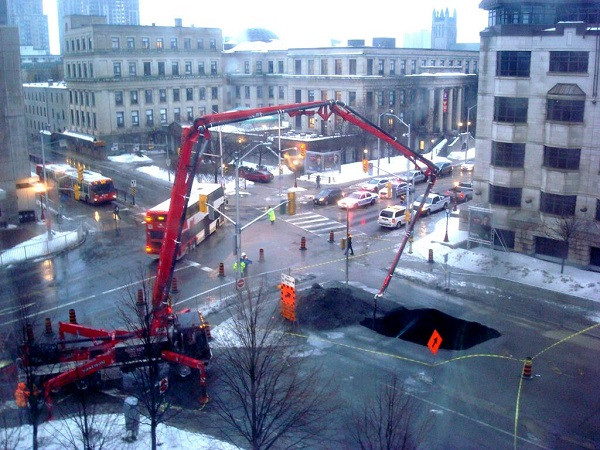 A giant 40ft deep sinkhole has opened up on Waller street in downtown Ottawa.
The section of the street collapsed and closed the intersection between Laurier Avenue East and Waller Street.
The cause of the sinkhole is still a mystery, but has suspended tunnelling work on the East Portal of the city's Light Rail Transit project.
Crews from the Rideau Transit Group (RTG) were working on the site at the time the hole appeared, but nobody was injured.
Round-the-clock tunnelling work had just begun on the LRT East Portal site when the incidentb occurred. All operations have been suspended for an investigation and engineers are on the scene to assess ground conditions.
City officials have confirmed crews were filling the sinkhole with concrete in order to stabilise it.
The hole left residents along Laurier Avenue without water, as well as causing traffic chaos in and around the area with the closure of many roads.
Ottawa police have said it is one of the largest sinkholes they have ever encountered and are trying to determine whether ongoing tunnel construction works contributed to the incident.
Several sinkholes have also appeared in the UK after floods, causing injuries and homes to be evacuated. A house is on the verge of collapse after the phenomenon occurred in North Yorkshire, while a 15ft hole appeared on the M2.
Homes were evacuated in Hemel Hampstead due to a 35ft hole and a 30ft hole which engulfed a car in High Wycombe.
Sinkholes appear for a number of reasons. There are several different types, both man-made "collapse subidence" holes and those caused naturally. Chasms occur when soluble rock, such as limestone, breaks down when attacked by acidic rainfall or groundwater.
Vanessa Banks, from the British Geological Survey, previously told IBTimes UK:
"Collapse subsidence features comprise voids that result from collapse into artificial features, for example, mines (including ancient chalk mines that are referred to as deneholes), mine-shafts, old wells, soakaways, former ice-houses, former storage or refuse pits."
Construction can also cause sinkholes, as placing heavy loads on the ground without support and changes to surface drainage can cause voids to appear.