Fidel Castro, Cuba's former leader, who led the Communist revolution in the country, has died at the age of 90.
His brother, current Cuban President Raul Castro made the announcement on state television and stated: "The commander-in-chief of the Cuban revolution died at 22:29 hours this evening [3.29am GMT Saturday, 26 November]," BBC reported.
Castro will be cremated on Saturday, the president said. He ended the announcement with the revolutionary slogan: "Towards victory, always!"
It has been reported that Cuba will observe several days of national mourning. Castro made his last public appearance in August to mark his 90<sup>th birthday.
He ruled Cuba for almost half-a-century and stepped down from power in 2008 after suffering from a serious gastro intestinal illness. His brother Raul took over from him.
Castro was revered as a revolutionary icon in the Latin American country and had reportedly survived a number of assassination attempts. There had also been a couple of premature obituaries reporting his demise after years of false rumours about his death as he endured a protracted battle with illness.
He was born Fidel Alejandro Castro Ruz in 1926 in the south-eastern Oriente Province of Cuba. Castro governed the Republic of Cuba as prime minister from 1959 to 1976 and then as president from 1976 to 2008.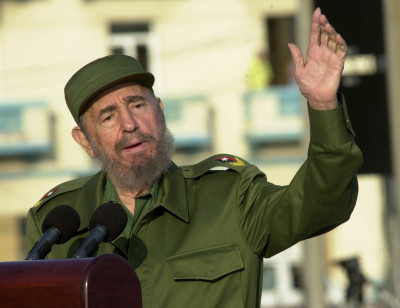 He began a guerrilla war against the government with Che Guevera in 1956.
He believed in one-man and one-party rule, which kept him in power for almost five decades, making him the world's third longest-serving head of state, after Britain's Queen Elizabeth and the recently-deceased King of Thailand.
The communist leader was reported to have defied at least nine American presidents and a US-backed failed Bay of Pigs invasion. The US had tried to topple Castro's government for years and the CIA had allegedly spent more than $1bn (£801m) to assassinate him.
Castro claimed the US tried to kill him 634 times using everything from poisonous pills, toxic cigar, to exploding seashells.
His death comes during a thaw in US-Cuba relations. In 2014, US President Barack Obama had announced Washington's plan to restore diplomatic ties with Cuba and to relax trade and travel restrictions. However, Castro made clear his mistrust of the US. He publicly criticised Obama when he visited Cuba in 2016, the first by a sitting American president in 88 years, and said Cuba did not need anything that Washington was offering.
Castro ousted then-dictator Fulgencio Batista in 1959. He was loved and worshipped as a hero by many, while liberal Cubans saw him as a suppressive dictator. However, he remained one of the most prominent political figures of modern history.