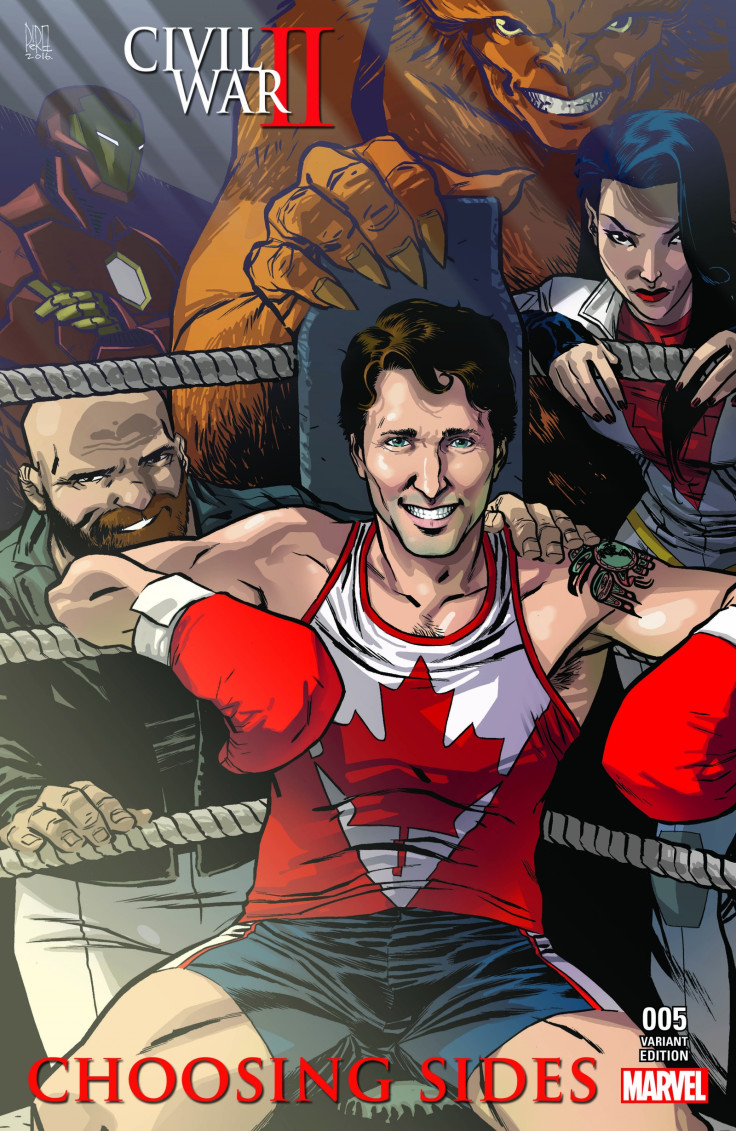 Prime Minister of Canada, Justin Trudeau, is set to feature on a cover of Civil War II: Choosing Sides, a Marvel comic to be released at the end of August. Trudeau appears on a variant cover in the corner of a boxing ring clad in a maple leaf outfit.
The comic's artist, Ramon Perez, told the BBC that he wanted to bring forth Trudeau's personality: "He has a very youthful demographic and is present in social media. As well, he has a boxing history, and boxing itself being a part of the short story he appears in, it was the perfect fit."
The cover sees Trudeau surround by members of Alpha Flight, described as once being Canada's premiere super hero team, though now working around the world for Captain Marvel. In the comic, Alpha Flight seek advice from their old boss, one Justin Trudeau.
The members of Alpha Flight, Sasquatch, Puck and Aurora, can be seen around Trudeau, with Iron Man in the background shadows. The image is not the main cover for Civil War II: Choosing Sides Issue #5 but a variant cover that fans can find.
Trudeau has a habit of hitting headlines in superhero fashion already. Before the Invictus Games he recorded a video with the Canadian team in which he did a push-up; he melted even more hearts when he explained quantum computing to a reporter.
He is not even the first member of his family to appear in cartoon form. The late Pierre Trudeau, former Canadian Prime Minister and Justin's father, appeared in an issue of the Uncanny X-Men in 1979.