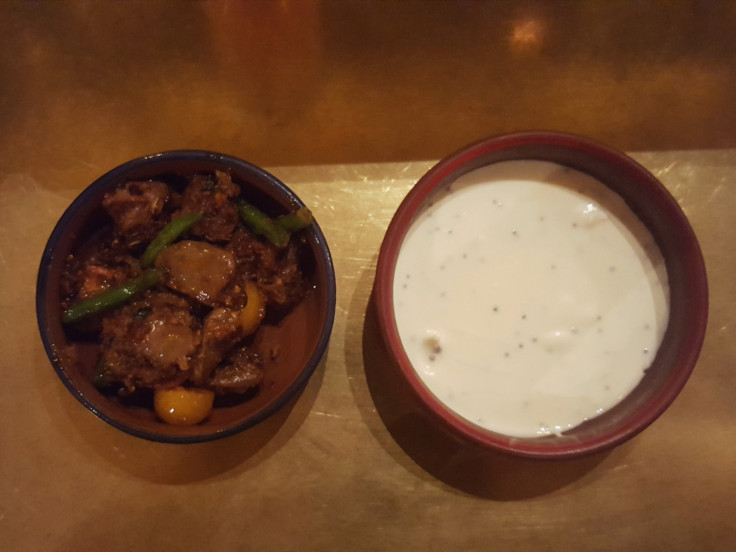 Another of Soho's ridiculously popular no-reservations restaurants, Hoppers serves up Sri Lankan and Tamil inspired fare in a golden, shiny interior. If you want to join the queue for a table, give them your number at the door and then head off for a quick vermouth down the road – they'll text you when the table's ready.
From a family of restaurateurs, wooden chairs line Hoppers as staff walk around with touchscreen devices, it's just before 6pm and the place is already rammed – dining alone, they have a nice bar counter to seat me.
Our verdict
Restaurants with a good counter are wonderful things – ones where you can stop in for a meal, maybe before a later meeting, or just after work full in the knowledge that you'll get home and be able to just lie in bed until the next morning. Hoppers have a good counter, just above you is the bar and almost as soon as you order, your drink turns up in front of your face.
The service, not only being friendly and knowledgeable, is perceptive. Sitting at the counter with your fingers covered in spice and yoghurt, it's surprising the number of restaurants where a manager will wander over and ask how everything is. "Fine," you say, as you scrape spice mix from your thumb with your teeth. In Hoppers, they're ready for you, not the other way around. As soon as I need something, someone is there, when I don't, I'm left alone. My plates are cleared without fuss and the food comes quickly.
But aside from all of this, the food is what you have to go for. The evening starts with a Strawberry Sharbat – coriander seed and strawberry crush with limeade, it tastes as sweet as you want it to and acted perfectly as the aperitif you might normally get – there are boozy cocktails as well.
The 'short eats' selection is where I'm ordering from, a group of smaller but still full dishes that you can happily arrange around your patch of counter. The first to arrive is the duck heart chukka, I spear one into my mouth and am in love. The hearts are fantastically chewy and coated in a delicious spice – I start with a fork but quickly revert to throwing them into my mouth with my fingers. Next to that I order the yoghurt, a simple raita-like dish that calms my taste buds the whole way through the meal.
Address - 49 Frith Street, London, W1D 4SG
Times - Monday to Thursday: 12pm - 2.45pm, 5:30pm - 10:45pm; Friday to Saturday: 12pm - 10:45pm.
Twitter - @HoppersLondon
Website - hopperslondon.com
Menus - Here
Prices - Duck heart chukka - £5, Bonemarrow Varuval - £6, Goat Roti - £6.50, Yoghurt - £1.50, Strawberry Sharbat - £4.50, Sweet Metre Tea - £2.50.
Next, a goat roti that is exactly what you think it is. A flat bread stuffed with goat, happy with a dipping sauce - though good with a bit of the yoghurt on too. The bread is greasy and the meat is flavourful - my fingers are starting to get layers of food on them but I'm digging in hard and fast.
Last comes bonemarrow varuval, gooey and perfect, you could suck it off the bone but the special spoons works well to get it all out. This also comes with roti on the side which I use to mop up the sauce around the bone, then the duck heart remnants, then a bit of yoghurt. I have to order another roti.
All while this is happening I hear snippets of conversation from the two people next to me – at one point they discuss the relative merits of Co-op vs Sainsbury's; I couldn't care less, I'm finger deep in yoghurt and my mouth is coated in spice but I keep eating.
Bigger dishes, the eponymous hopper for example, pass me by and look incredible - I'm so full I can't contemplate getting more, but I probably could. Smartly, before this carnage of eating began, I took pictures of the pretty food – the only annoying thing about the counter is the mirroring shine of the metal. It messes with my Instagrams, sacrilege.
I end as you should, with a sweet, spiced tea in a metal cup. You can taste the condensed milk straight away and it reminds me of karak, a similar recipe tea that we drank in the Gulf in my childhood. Now, not only am I content, I'm reminiscent. I leave happier than I came in.
NOTE: James Tennent ate at Hoppers anonymously and paid for his own meal.