A collection of 14 original photographs at the wedding reception of Princess Diana and Prince Charles held at the Buckingham Palace on 29 July, 1981 following their wedding ceremony at St Paul's Cathedral is now up for sale in the US.
The collection is from an assistant to English photographer Patrick Lichfield, the Queen's first cousin once removed, who was the only photographer allowed to take informal pictures of the royal family and their guests when they returned to Buckingham Palace, according to the BBC.
The collection comprises seven black and white glossy photos, seven colour satin-finish photos and the pass used by an the assistant for access to the palace. It also comes with a letter of provenance from the assistant to Lord Lichfield which identifies the people in each photograph and provides further details.
Lord Lichfield had directed the assistant to compile an album of photographs which was presented to the newly-weds to commemorate their wedding day. The photographs that did not make it to the album were handed over to Lichfield's assistant in recognition of the work done, RR Auction said.
The photographs are being sold by an unnamed female "photographic assistant" to Lord Lichfield, according to RR Auction, USA Today said.
The photographs are believed to have never been published and "very few people have ever laid eyes on them."
Bidding for the collection at the Remarkable Rarities Auction starts on 17 September and ends on 24 September. The live action will be held in Boston, Massachusetts. A minimum bid of $300 (£193), has been set for the pictures.
RR Auction house executive vice president Bobby Livingston said: "These never-before-seen photographs capture the candid and unrehearsed moments of the fairytale wedding."
He said the official pre-auction estimate is between $1,000 and $2,000 (£643- £1,286) but believes that it could go higher. A single rare photograph of Diana in her teenage years sold at RR Auction in October 2014 for slightly more than $18,000 (£11,569), USA Today reported.
Livingston believes the assistant could have decided to sell the pictures ahead of the anniversary of Diana's death. Diana was killed in a Paris car crash on 31 August 1997 at the age of 36, a year after she and Prince Charles divorced.
Lord Lichfield died in 2005 after suffering a stroke at the age of 66, BBC said.
Description of the photographs for sale
Six of the larger photos show Prince Diana in her wedding dress with members of her family and wedding party, including Queen Elizabeth, Prince Charles, Princess Anne, Princess Margaret and Prince Andrew.
Three pictures show the late Princess Diana holding her youngest bridesmaid, five-year-old Clementine Hambro, who attended the Young England kindergarten in Chelsea where Diana was working before her marriage to Charles.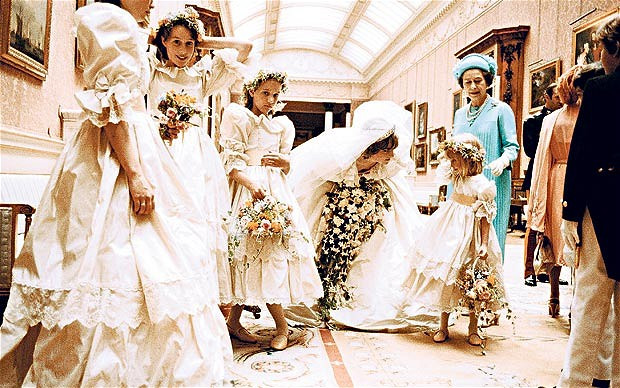 In 2011, Hambro wrote in the Telegraph describing the events of the day, and how while walking down a very long gallery to get to Buckingham Palace's balcony, she fell and hit her head.
"Diana picked me up and comforted me and asked if I had bumped my bottom. I remember being overcome with embarrassment that I could have possibly done such a thing and kept trying to explain that it was my head that was bumped - not my bottom!."
Hambro said that Lord Lichfield captured the moment on an instant camera that he had in his pocket.
"Of all the day's many photographs, I love this one most of all. It captures an entirely unscripted, human moment in this very long, very organised day," she said.