Candy Crush Saga Developer King Files $500m New York IPO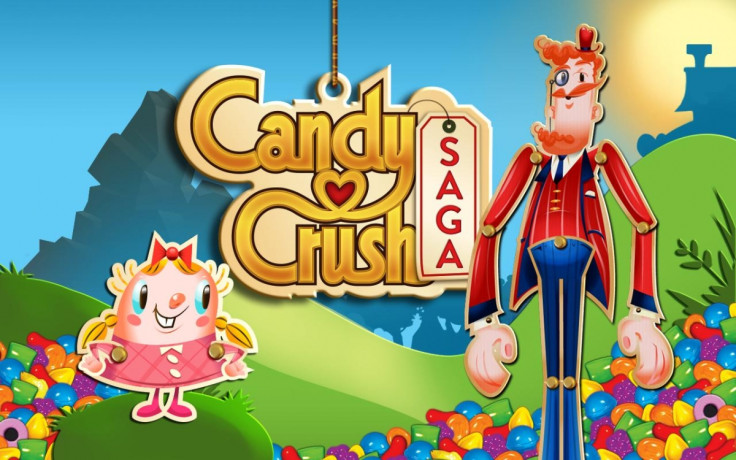 King.com, developer of hugely popular mobile game Candy Crush Saga, has filed for an initial public offering on the New York Stock Exchange worth $500 million (£300m).
Headquartered in London and Stockholm, the game developer was founded in 2003, but it was not until Candy Crush Saga was released as a Facebook game in April, 2012 that the company's growth skyrocketed.
In 2012, King recorded revenue of $164.4m and profit of $7.8m - a year later, the company saw revenues of $1.88bn and profit of $567.6m.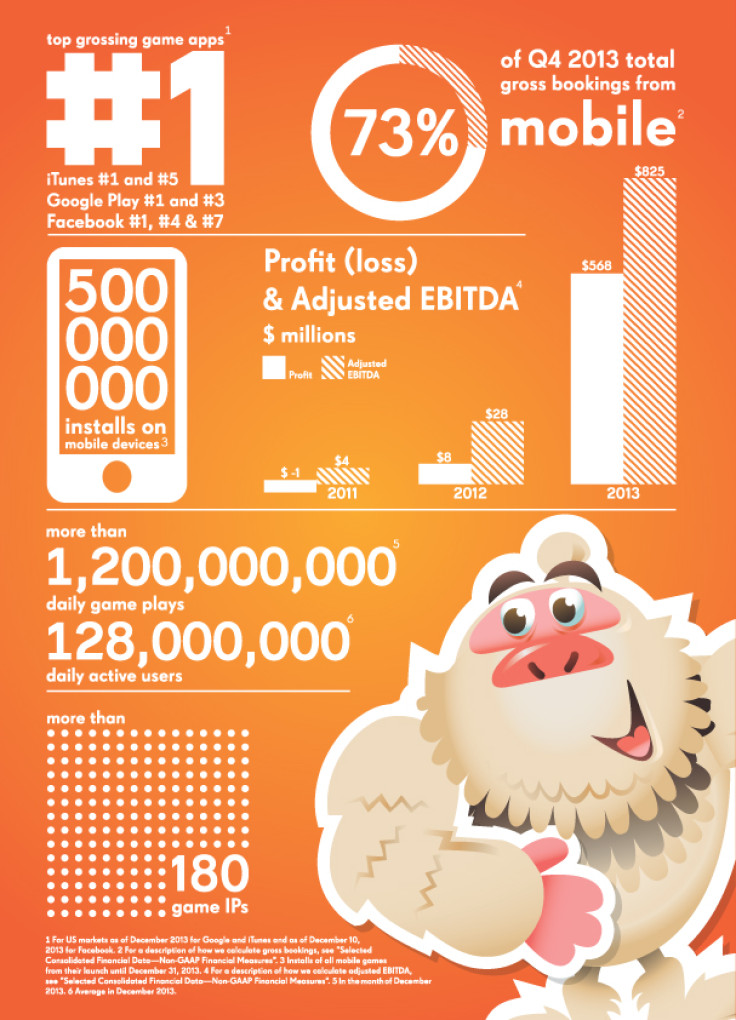 Infographic submitted with King's F1 filing with SEC.
King.com
That profit comes from staggering user engagement: Candy Crush Saga attracts 93 million players every day, combining to make more than one billion game plays daily. The one game alone generates 78% of King's revenue.
However, King is not a one-trick pony - four other games also rack up millions of gamers every day. Pet Rescue Sage attracts 15 million daily players, while Farm Heroes sees eight million, Papa Pear five million and Bubble Witch three million.
The number of shares to be offered and the price range for the offering have not yet been determined; King intends to list its ordinary shares under the ticker symbol 'KING'.
JP Morgan, Credit Suisse and Bank of America Merrill Lynch are acting as joint lead book-running managers and as representatives of the underwriters for the proposed offering. Barclays, Deutsche Bank and RBC Capital Markets are also acting as joint book-running managers.
King's games have been installed more than 500 million times across a range of mobile devices, include tablets and smartphones running iOS and Android.
Risks - we cannot be sure of effectively managing our growth
As part of its f1 filing with the US Securities & Exchange Commission, King admits how its incredible growth will be difficult to maintain.
"We have experienced a period of significant rapid growth and expansion in our operations that has placed, and continues to place, significant strain on our management and resources," the company said.
King's workforce increased from 144 at the end of 2011, to 665 on the last day of 2013, and the company "expects headcount growth to continue for the foreseeable future."
Having started with one game development studio in London, King has opened five more across Europe since 2011, but admits: "We cannot assure you that this level of significant growth will be sustainable in the future.
"In the event of continued growth of our operations, our information technology systems or our internal controls and procedures will need to be scaled to support our operations."
King also admits the company's staff may lack the experience needed to run such a large company. Some members of management "do not have significant experience managing a large global business operation, so our management may not be able to manage such growth effectively."
As the company grows, it expects to make changes to how it operates, reducing its ability to develop and launch new games as quickly as it does currently.
Keeping things simple
In the filing, King CEO Riccardo Zacconi explained his company's business model of producing games quickly to see what works and what doesn't.
"Our approach to development is to keep things simple – not just the gameplay, but also the process. We create many games, then launch them on our website to see what works and what does not. It's a continuous cycle of innovation and improvement, trying out new ideas, revising them, and trying again.
"Even for our most established games that are on social and mobile platforms, we continue to add new levels, new twists and new experiences to keep them fun and fresh. We work for our players and incessantly try to improve what we do; we give all we have to make the best games for them."
© Copyright IBTimes 2023. All rights reserved.