Saul "Canelo" Alvarez is set to face unified middleweight champion Gennady Golovkin on 16 September in a dream fight following his dominant victory over Julio Cesar Chavez Jr.
The two-weight champion (49-1-1 record in boxing) comfortably disposed of Chavez Jr in the battle of Mexico, winning every single round to grab a 120-108 unanimous decision win on Saturday (6 May).
Canelo was a heavy betting favourite against Chavez Jr in the T-Mobile Arena in Las Vegas as the 26-year-old landed more strikes, with 228 punches compared to his opponent's 71 as well as an 83-15 difference in jabs to have a total of 37.7% strikes landed.
"I showed that I can move, I can box, I can do everything against a fighter who was bigger and stronger," Alvarez said following his win, as quoted on Daily News. "He just wouldn't throw punches. I wanted to give the Mexican public a great fight."
While the bout was extremely uncompetitive and below expectations, what occurred afterwards made up for it as Golovkin's entrance music hit as he approached the ring to announce their upcoming fight.
With the contract signed and a date already set, only the venue now requires confirmation in what is the most highly anticipated boxing bout since Floyd Mayweather and Manny Pacquiao.
"GGG, you are next my friend. The fight is done," Alvarez revealed. "I've never feared anyone, since I was 16 fighting as a professional."
"I feel very excited, right now is a different story," Golovkin (37-0 record in boxing) added. "In September, it will be a different style, a big drama show. I'm ready. I think, right now, everybody is excited for us to fight."
Canelo was originally supposed to face the unbeaten Kazakstan native in September of last year, however, opted to face Liam Smith instead leading to a lot of criticism.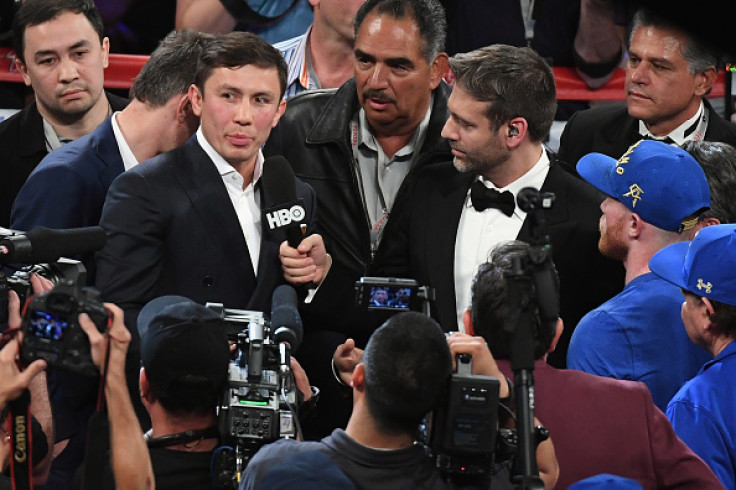 But with his impressive win and Golovkin recently being tested to the limit against Daniel Jacobs in March in what was his first win via decision since 2008, many people feel the fight will be much closer than in recent years, including boxing trainer and commentator Teddy Atlas.
"I think Golovkin's been sliding," Atlas explained, as quoted on Bad Left Hook. "I think Canelo's gotten better in the last couple years, and I think Golovkin's been sliding. But he's a big, strong guy, Golovkin. It's a closer fight now in my eyes than it was a year ago."