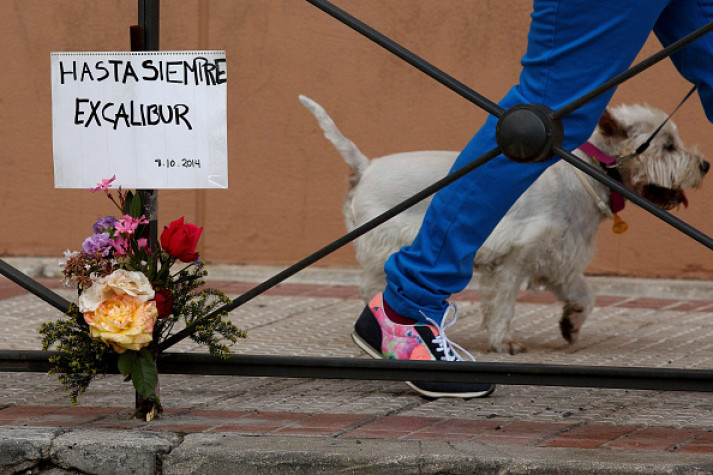 After the major backlash following the killing of the Excalibur dog, belonging to the Spanish nurse who contracted the deadly virus while treating a victim from Sierra Leone, experts confirm on Thursday (9 October) that while canines can carry the virus, they are unlikely to infect humans.
Spanish authorities euthanized Excalibur as a precautionary measure without the dog being diagnosed with the Ebola virus, prompting uproar from animal rights activists on Wednesday (8 October).
Investigators who probed into the 2001-2002 Ebola outbreak in Gabon reportedly found traces of antibodies of the virus in dogs, which proved that the animal is capable of carrying the Ebola infection.
It remains unknown if the dogs that were investigated picked up the virus from another animal –monkeys, apes, bats, or from a human.
It also remains uncertain whether or not they can pass the virus onto humans.
"The answer is that we don't know, because no one has actually studied it," said Andrew Easton, a professor at University of Warwick in Coventry, UK.
"The wise move is to... assume they (dogs) do represent a risk to humans. If those dogs are carrying the virus, they are definitely a potential source. They have to be considered a risk to anyone who handles the dogs or comes into close contact with secretions or faecal material from those dogs," added Easton.
A 2005 study published in the journal Emerging Infectious Diseases is the only factual source claiming that dogs could pass on the Ebola virus to humans through urine, faeces or saliva, however, there is no major evidence of the incident ever occurring.
"There is no scientific evidence that domestic animals play an active role in the transmission of this disease to humans," said Bernard Vallat, director general of the World Organisation for Animal Health (OIE).
The US Centers for Disease Control and Prevention (CDC) adopted a similar stance, confirming that there are, "no reports of pets becoming sick" or "playing a role in transmission of Ebola to humans."
Eric Leroy from France's IRD research institute, who co-authored the Gabon study, says we lost a rare opportunity to determine whether dogs might be carriers of the deadly disease, after killing the Excalibur.
"This dog could have provided valuable answers to the world's questions: can a dog be sick with Ebola, can it excrete the virus, can it contaminate humans?" said Leroy.