UK Border Force staff working in Ghana have discovered hundreds of lollipops packed with pure cocaine, worth around £200,000 in total.
A 29-year-old man was arrested upon discovery of the tainted sweets, which were covered in colourful wrapping and stashed in a suitcase.
The discovery is just the latest in a series of busts by UK authorities, as they attempt to crack down on drug smuggling and the wider drug industry.
However, as our compilation of some of the strangest drug busts shows, criminals will often try anything to ensure customers get their fix.
What a tube
Many drug purveyors have been caught out by their own stupidity - no-one more so than a Somerset man who posted a video about his cannabis production operation on YouTube.
The dozy grower posted a video of his mini-factory, and even used his real name as his web handle.
When police got wind of his video, the 25-year-old was convicted of cultivating the B drug and was handed a £500 fine, as well as a police warning.
PC Adrian Peck, of Avon and Somerset police, explained: "If you break the law and are foolish enough to then advertise your criminal activities on the internet, it makes it very easy for the police to catch you."
Growing behind bars
Convict Mohamed Jalloh, 28, grew cannabis in his prison cell and even decorated one four-foot high plant as a christmas tree.
Jallah, who was jailed for drug dealing, told staff at Verne Prison in Dorest the super-skunk crop was a tomato plant.
He was eventually busted when a fellow lag grassed on him and officers consulted web pictures of cannabis.
An official enquiry was launched.
Wrong number
One call not to make when sealing a drug deal on the street would probably be to the police. But a man in Kansas mistakenly did just that.
Drug dealers Jess Suarez and Jesus Santos were conducting a deal when one of the men's phones 'pocket dialled' the emergency services - placing a call to 911 after a button was depressed by accident in the dealer's pocket.
The operator who took the call told police two men could be heard arguing and saying 'there go the cops.'
Officers traced the call, resulting in the arrest and conviction of Jess Suarez and Jesus Santos, both 25.
Police chief Patrick Kitchens said "we have been trying to figure out how to classify it. It might be the first case where a person accidentally dialled 911 and got arrested."
Flat out of luck
Elsewhere in America, one cannabis grower was left cursing a fire which gutted two neighbouring flats and seriously damaged a third.
The 27-year-old aroused suspicions by blocking firefighters when they came around to carry out air quality checks.
The police eventually searched the property and found two cannabis plants.
Starting young
But the strangest drug busts of all may be cute infants at risk of failing a drug test - because of soap.
High street baby soap brands were found to contain the active ingredient in marijuana, tetrahydrocannabinol, better known as THC.
The find was made by analysing samples of infant urine which contained minute amounts of popular soaps sold on the high street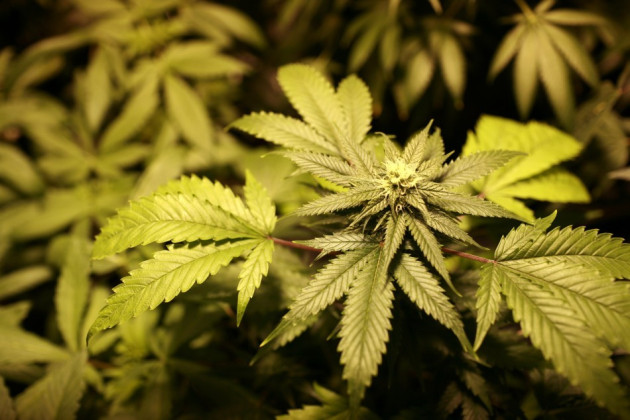 .