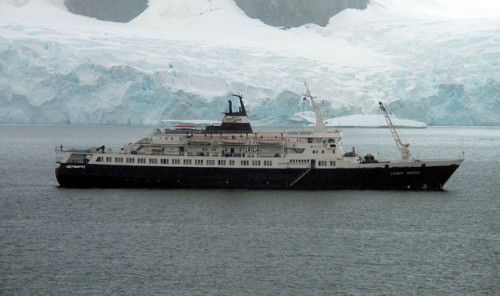 A mysterious ghost ship carrying nothing but diseased cannibal rats could be drifting towards Britain after being lost at sea for a year, salvage experts have warned.
The Lyubov Orlova cruise liner has been floating around the Atlantic Ocean since last January and experts believe that storms in the area could push it thousands of miles towards the UK. Satellites located a mystery blip which analysts said matched the size of the ship off the coast of Scotland but search aircraft were unable to find it.
The 4,250-tonne vessel, named after a Russian actress, was built in Yugoslavia in 1976. Harbour authorities in Newfoundland, Canada, seized it after its owners ran into money troubles with the crew not paid for months.
Authorities tried to sell the ship - valued at more than £600,000 - to the Dominican Republic for scrap. As it was being towed away, however, rough seas broke the tow-line and the vessel drifted off.
Canadian maritime authorities sent a second ship to apprehend it and drag it out to international waters where it was dumped. Transport Canada said it was satisfied the that Lyubov Orlova "no longer posed a threat to the safety of [Canadian] offshore oil installations, their personnel or the marine environment" and further attempts to reclaim it were abandoned.
Twelve months later, experts believe the ship is still afloat somewhere as its automatic lifeboat emergency beacons, which go off if it sinks, were never activated.
Maritime experts believe that its only occupants now are cannibal rats who may have reproduced thousands of times over the course of the year after eating each other.
Pim de Rhoodes, a Belgian salvage hunter who is looking for the ship, told the Sun: "She is floating around out there somewhere.
"There will be a lot of rats and they eat each other. If I get aboard I'll have to lace everywhere with poison."
Irish coastguard chief Chris Reynolds also believes the 4,250-ton vessel is likely to be still afloat.
"There have been huge storms in recent months but it takes a lot to sink a vessel as big as that,' he said.
"We must stay vigilant."