A car bomb which exploded outside an Islamic courthouse in the rebel-held Syrian town of Azaz has killed at least 43 people, say monitors.
The explosion tore through the town which sits just 4 miles (7km) from the Turkish frontier in the extreme north of the country and 20 miles northwest of war-torn Aleppo.
The explosion is said to have taken place near a market on Saturday, 7 January, according to the Britain-based Syrian Observatory for Human Rights (SOHR), who were cited by Agent France Press (AFP).
It is thought that dozens of people have been injured, with some news sources saying 19 had died, and that most of those killed in the blast are thought to be civilians.
The death toll is expected to rise throughout the day and comes as during a Russia and Turkey-brokered ceasefire that serves as a precursor to peace talks.
Although no group has claimed responsibility for the attack, Azaz has recently been targeted by militants from the Islamic State (Isis), which is more active further south.
The attack is the latest in a string of bombings to hit the town, including one attack in November when 25 people, civilians and opposition fighters, were killed in a car bomb on rebel headquarters. The rebels said they believed that IS (Daesh) militants were behind this explosion.
On Thursday, 13 October, at least 20 people were killed in a car bomb explosion at a Syrian rebel checkpoint. The majority of those killed thought to be rebel fighters. The explosion killed at least 14 rebel fighters according to the SOHR.
The checkpoint was controlled by the Free Syrian Army (FSA) affiliate, the Levant Front, according to a report by Al Jazeera.
And in September last year Syrian rebels backed by Turkey ousted IS fighters from land near to Azaz and Jarablus creating a 91km (55 miles) corridor, Turkey's Prime Minister Binali Yildrim said at the time.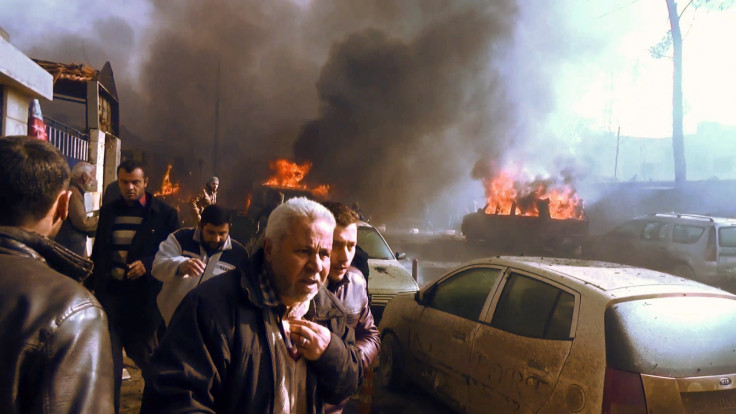 Yildrim spoke from the southeastern city of Diyarbakir saying,"Our 91km border has been completely secured. All terrorist organisations have been repulsed and they have gone," according to Al Jazeera.
The latest attack comes as a fragile ceasefire is being observed across Syria between forces loyal to Syrian President Bashar al-Assad and the rebel groups operating under the umbrella of the FSA. This alliance does not include IS, al-Qaeda-linked Jabhat Fateh al-Sham (JFS), or the Kurdish YPG.