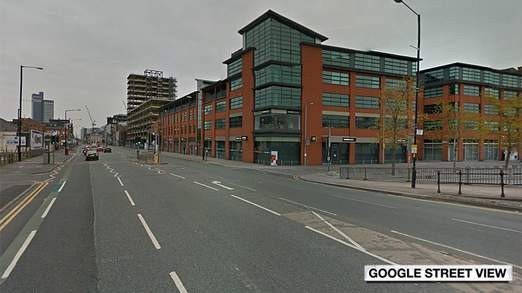 A pregnant woman was fighting for her life on Saturday after a car crash forced medics to carry out an emergency caesarean to deliver her baby.
A 19-year-old man was arrested on suspicion of dangerous driving following the accident in Manchester last night, which left three others seriously injured.
The baby was said to be making "good progress" after being delivered in hospital after the collision, police said.
The mother, 29, remains in a critical condition in hospital and is undergoing surgery for head and chest injuries following the collision at the junction of Great Ancoats Street and Redhill Street on Friday night.
She had been travelling in the back of a black cab with two other members of her family when a silver Volkswagen Golf collided with the taxi at around 10.45pm, police said.
The collision caused the taxi to veer on to the footpath and hit a pedestrian, trapping him between the taxi and the railings. The three passengers in the rear of the taxi were all seriously injured.
A 29-year-old man suffered serious injuries to his legs, pelvis and hips, while a 23-year-old man is in a serious condition with chest injuries, and a 31-year-old woman suffered a suspected fractured shoulder and facial injuries.
The driver of the taxi suffered minor injuries to his legs. The driver of the Golf was unharmed, but remains in police custody, according to Sky News.
Police Sergeant Danny Byrne from the Serious Collision Investigation Unit said: "This is a horrific set of circumstances in which several members of a family, including a woman who was nine months pregnant, and a pedestrian have been badly injured.
"The woman's baby was delivered by emergency C-section at hospital and although he is making good progress, unfortunately his mother remains in a critical condition.
"We are carrying out a full investigation to establish the exact circumstances leading up to this incident and are keen to hear from anyone that saw the 51-plate silver Volkswagen Golf driving along Great Ancoats Street prior to this collision, or in the nearby area, to contact us."
Anyone with information is urged to contact the Serious Collision Investigation Unit on 0161 856 4741.