Jimmy Choo's latest fashion campaign advertisement featuring supermodel Cara Delevingne has sparked online uproar amid the endless stream of sexual harassment revelations.
The UK-based shoe brand released its Cruise 2018 campaign with the 25-year-old star – who confessed to being sexually harassed by fallen Hollywood producer Harvey Weinstein – but has been slammed as "tone deaf" and "regressive" by the public.
The advert, which was launched in November, sees Delevingne wearing a backless, sparkly red mini dress with black high heel ankle boots adorned with colourful gems.
The model sashays past a man in the street who whistles at her and says: "Nice shoes, lady."
The clip then shows Delevingne close up smiling in response before continuing her strut in the city.
Despite the advert being shared last month, it has gained a lot of social media attention in recent days for its underlying sexism.
One tweeter said: "The problem is with turning catcalls into a joke for an ad. The men look like they're ogling her, and one of them even whistles... still a catcall, not a compliment."
Another added: "I would worry about the media advertising lip or breast augmentation as if it is a must for every woman! Because that actually represents a sex object for men. Not some sparkly -Jimmy Choo-shoes walk in NYC with some whistling in the background."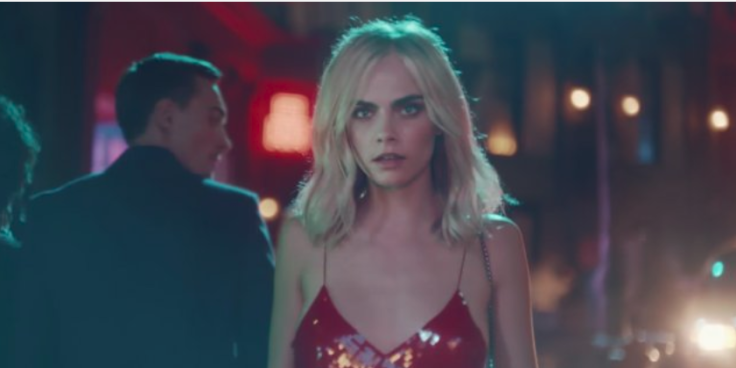 A third added: "I completely disagree with @Caradelevingne and @jimmychoo decision to use #sexualHarassment to sell shoes. #toneDeaf."
The criticism of Jimmy Choo's latest campaign comes at a sensitive time following October's anti-sexual harassment #MeToo campaign which touched a nerve around the world. Delevingne was one of many women who spoke up.
In a lengthy Instagram post, she explained the moment in which Weinstein made an advance to her:
IBTimes UK has contacted Jimmy Choo for a comment on the reactions to its ad campaign.