The decaying remains of a giant unidentified creature washed up the shores of Indonesia earlier this week, leaving locals and authorities in the region baffled.
The 15metre-long carcass was first spotted by a local resident Asrul Tuanakota, 37, of Seram Island in the Indonesian province of Maluku on the night of 9 May.
According to reports, Tuanakota first mistook the vast bloated animal for a stranded boat.
Footage broadcast in the local media showed the giant animal had discoloured skin and was still bleeding a day after it was found.
The huge creature is believed to have been dead for at least three days by the time it was spotted on the shores.
Residents flocked to the Hulung Beach at Iha village in the West Seram district to view the creature.
Some local fishermen believe the creature to be a giant squid, while some speculate it to be a giant octopus. But a coordinator of the country's Marine and Coastal Resources Management said it could be a whale.
The marine department has taken the samples of meat for laboratory tests to identify the species and the tests are underway, coordinator M Nasrul Latulanit said.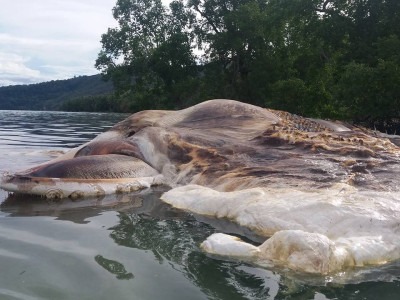 According to him the four-metre fangs in the front of the creature could be a jaw from a whale.
This is not the first time an unknown giant creature has been found washed ashore.
Earlier in February this year, a mysterious hairy sea monster was spotted on a Philippine beach. It weighed two tonnes and was almost seven metres in length. Locals first thought it was a kind of rare undiscovered dugong, but it was later identified as a whale, which had developed an alien-like appearance due to decomposition.
In April, an enormous rare basking shark, the second largest fish in the world, had washed up on the shores of Cornwall. The 25ft animal carcass was discovered floating in the water at Chapel Point, Mevagissey. It was discovered by photographer Matthew Facey, who posted images of the shark to Facebook.
In another incident, a giant grey sea creature had washed up on an Australian beach in February. The alien-like blob was found decomposing in the sand at the Fremantle Beach in Perth, Western Australia.
In December 2016, an enormous alien-like creature was discovered by New Zealanders after it washed up on a beach near Auckland. A local resident driving past the Muriwai Beach spotted an eerie-looking object covered in barnacles, according to The Sun.
It is not clear if those creatures were identified.