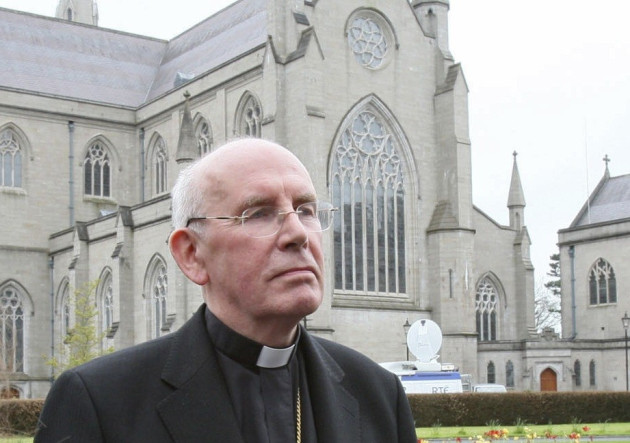 It has been announced that Cardinal Sean Brady will step down as the leader of the Roman Catholic Church in Ireland, three years after being implicated in covering up child abuse.
Calls were made for Brady to resign in 2010 after it was found he had interviewed two boys who had been sexually assaulted by Reverend Brendan Smyth.
He did not tell police or civil authorities about the abuse, or warn parents of other children whom the boys had identified as victims of abuse.
Smyth was later exposed as Ireland's most dangerous child abuser in history, having molested or raped over 100 boys and girls in Ireland and the US. He died in an Irish prison in 1997.
Brady publicly apologised for his part in the scandal, but insisted he had acted appropriately - saying he was following his superior's orders.
The 73-year-old will be succeeded by Monsignor Eamon Martin, who will take over in two to four years.
Martin is well known for saying there needs to be more accountability in the church for its part in child sex abuse. The Vatican confirmed he has been appointed as Brady's coadjutor archbishop on 18 January.
Martin sits on the National Board for Safeguarding Children, a church-funded body that investigates child sex abuse within the church. Over the last four years, it has revealed a host of cover-ups and has recommended reforms to put an end to child abuse within the church.
Catholics 'let down'
"One of the greatest challenges facing our church is to acknowledge, live with, and learn from the past, including the terrible trauma caused by abuse," he said.
"I think today of all those who have been abused by clergy, and the hurt and betrayal they have experienced. I am saddened that many good Catholics were let down so badly over the issue of abuse and that some have even stopped practicing their faith.
"[The church must] ensure that young people are always protected, respected and nurtured."
Brady has made no mention of the child abuse scandal surrounding the church, despite a compensation programme paying out over €1 billion (£839,000) to victims of abuse.
Many close to the Irish Catholic church have welcomed the decision to replace Brady with Martin.
Edward Daly, the retired bishop of Londonderry, said: "He is not burdened. He does not carry any baggage from the past with him. He goes into it with clean hands, and I think that's very important at the present time."
Martin McGuinness, deputy leader of the Northern Ireland government, called Martin "a progressive thinker and a man who has demonstrated an ability to connect with ordinary Catholics". He said Martin's appointment marks "an opportunity for renewal".
Brady, Martin and Irish prime minister Edna Kenny met on Friday to discuss government plans, including the legalisation of abortion.