Carl Frampton and Leo Santa Cruz meet again this Saturday (28 January) at the MGM Grand in Las Vegas in what promised to be a gripping rematch of last year's battle for the WBA featherweight title.
Where to watch
Frampton vs Santa Cruz is available to watch live on Sky Sports 1 in the early hours of Sunday morning. Coverage of the undercard, which also includes Lee Selby in action, begins at 1am with the main event scheduled for approximately 3am. As is always the way with live boxing however, those times are subject to change.
Preview
With the exception of perhaps Andre Ward vs Sergey Kovalev, there wasn't another rematch the boxing masses were keener to see this year than Carl Frampton vs Leo Santa Cruz 1.
That July night was a seminal moment in the rapidly- burgeoning career of the Belfast-born fighter, who secured his victory via a majority points decision. Having stepped to fight at 126lbs for the first time in his career, a composed and assured performance lifted him to another level as a two-weight world champion and with his professional record still flawless after 23 fights. Stepping up a division and immediately inflicting a first career defeat on a man who was perhaps the best fighter the weight had to offer was a definitive statement that echoed loudly across the boxing world.
Frampton was 2016's outstanding fighter – not many had a more rousing year in the ring that he did. Before conquering New York, the 29-year-old conquered the bantamweight division. Frampton vs Scott Quigg finally got its stage in February after a long time coming, with 'The Jackal' settling their long-running feud to take his WBA title and unify the division, inflicting a broken jaw on his old foe en route to a points victory in Manchester.
With nothing else to do accomplish at 122lbs, stepping up was the logical choice with his first test that ferocious first encounter with Santa Cruz. There, he continued to hone his reputation, picking up a hard-fought victory to take another world title, one that solidified his status as so many people's fighter of 2016.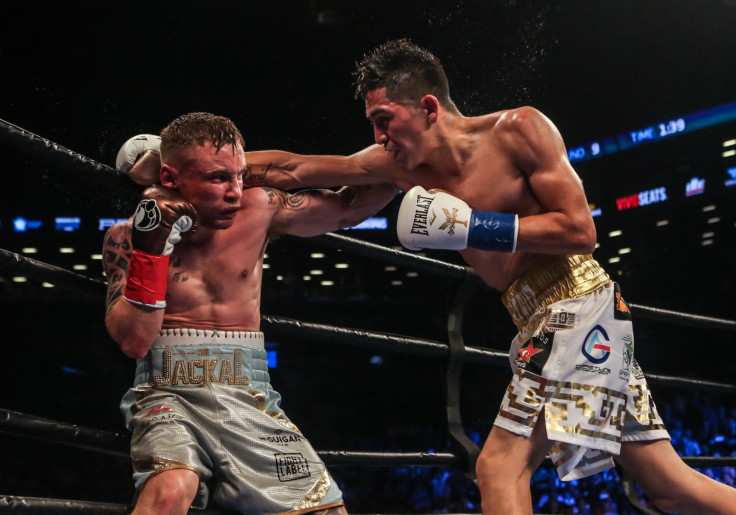 While neither man has fought since that July evening, Saturday's rematch is still the best on offer in what is becoming a hugely competitive weight at world level, with the Gary Russell Jnr and Lee Selby enticing names for whoever comes out on top in Vegas on Saturday.
For Frampton, another meeting with Santa Cruz is a threat, however. While he rightly won the first fight, the Mexican remains the biggest threat to his continued clutch on the featherweight division. The all-action 29-year-old will also be bolstered by the return of his father and trainer Jose, who is back in his corner after overcoming his battle with cancer.
Frampton won the two biggest fights in two different weights in 2016, victories that backed the notion he is swiftly becoming one of the most complete fighters out there. In those year-defining fights, he had the endurance and stamina to go the distance in both the intelligence to take control of the ring in many of those rounds and the skill to inflict telling damage at the right time.
Records
Carl Frampton: 23 fights, 23 wins (14 via knockout), 0 losses
(W) Leo Santa Cruz – majority decision – July 2016
(W) Scott Quigg – split decision – February 2016
(W) Alejandro Gonzalez Jnr – unanimous decision – July 2015
Santa Cruz: 34 fights, 32 wins (18 via knockout), one draw, one loss
(L) Carl Frampton – majority decision – July 2016
(W) Kiki Martinez – technical knockout – February 2016
(W) Abner Mares – majority decision – August 2015
Prediction – Frampton via split decision
Santa Cruz will have learned from their first encounter and while his greatest strength may lie in overwhelming his opponent, a more varied approach might be required to halt Frampton's rise. Their first meeting was compelling viewing; it is hard to imagine this being any different.
What they have said
Frampton: "I want to prove that the first fight wasn't a fluke and that I'm a better fighter. If I can get a lead on the scorecards and make him desperate, that's where I'm really going to capitalise," Frampton said. "I believe that if I hit anyone in these weight divisions clean on the chin, they can go down and out." [via Boxing Scene]
Santa Cruz: "When we got into the fight, it was clear my dad wanted me to fight another way. It got me mixed up, confused and we were distracted trying to get the game plans together.
"I'm taller. I can box him. I won't be the same guy. I wasn't the same as I usually am in the last fight mentally because of my dad and what was going on with him. I didn't want to realise it then, but once I was in the fight, I didn't feel my training. Having my dad here healthy, pushing me, has helped." [via LA Times]
Prediction – Frampton via split decision
A closer encounter than their first meeting with Santa Cruz perhaps a little wiser to Frampton's arsenal, but the same outcome.
Odds [via Betfair]
Frampton win: 4/6
Santa Cruz win: 6/4
Draw: 20/1