UFC's Dana White reveals why Conor McGregor will not fight Manny Pacquiao
Pacquiao said he is open to fight McGregor in a boxing bout.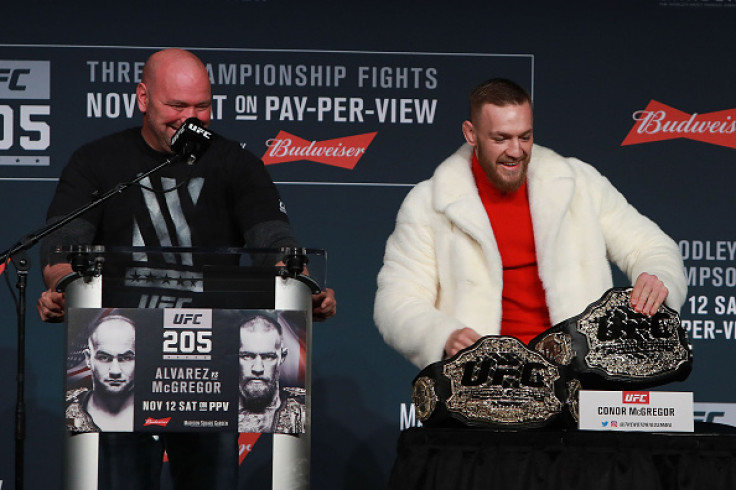 UFC president Dana White has revealed his star fighter Conor McGregor will not take on Manny Pacquiao if boxing promoter and CEO of Top Rank Bob Arum is involved.
There has been a lot of talk over a potential fight between McGregor and Floyd Mayweather. However, the Filipino has thrown his hat into the ring after suggesting that he is open to the idea of fighting the UFC star, if boxing legend turns down a chance to fight the Dubliner inside the ropes.
Pacquiao publicly expressed his desire to take on McGregor in a boxing match earlier in January.
"In boxing? In boxing [I would fight McGregor] but not in the UFC, just boxing. I didn't see the footage of Conor sparring. But if we are talking about Conor McGregor and boxing, it's different. Boxing is different than MMA," Pacquiao told Fox Sports.
His promoter Arum admitted that he would ask Top Rank's president Todd duBoef to discuss a possibility of a fight between the current WBO welterweight belt holder and UFC lightweight champion with UFC chief operating officer Lawrence Epstein.
"Todd has agreed to call Lawrence, and they have a great relationship, and tell him what Manny's interest is and see what happens. That's it," Arum told Yahoo Sport.
However, White pinpointed the difference between him and Arum as the reason why a boxing bout between McGregor and Pacquiao will not take place.
"Listen, I love Manny Pacquiao. But I don't love Bob Arum. You can tell Arum to save his money and not make any calls over here because we aren't doing business with him," White told Yahoo Sports.
© Copyright IBTimes 2023. All rights reserved.