IBF world champion Carl Froch has earned a rematch against Danish WBA world champion Mikkel Kessler in London in May.
The Briton, who defeated Lucian Bute and Yusaf Mack to finish 2012 the IBF super middleweight champion, will attempt to avenge the first defeat of his career against Kessler, who has suffered just two defeats in his 48 bouts.
The pair fought in April 2010 in Denmark with the home favourite prevailing on an unanimous points decision, but Froch, who could relinquish his IBF title having bypassed mandatory challenger Adonis Stevenson, is keen to set the record straight.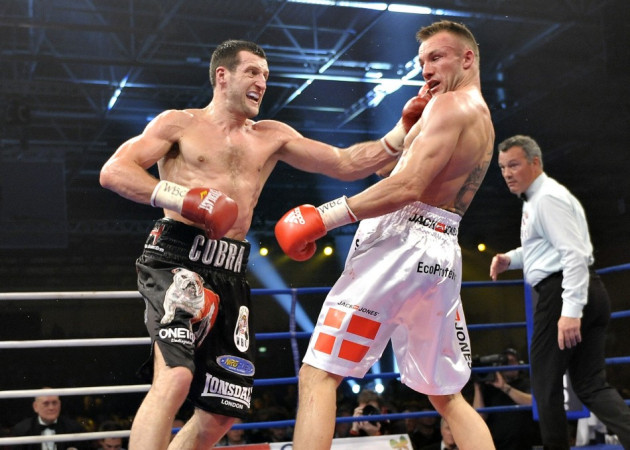 "First and foremost, I'm really pleased the fight has finally been arranged," said Froch. "I feared that Kessler had second thoughts about his promise - but the man has come good on his word.
"Our first fight was pure warfare. We went at each other for every minute of every round and the rematch promises to be even more fiercely contested. I seriously wish I was ringside myself for this fight, because I'm gunning for revenge at all costs and the fight fans are in for a real treat.
"He is a class act both inside and outside the ropes. We are cut from the same cloth and we will be friends yet again after the fight. But the moment I heard the fight was done on the telephone, I was completely switched on and he was the focus of my mind. I can't wait to get back into camp for this one. I've never felt so motivated.
"If Mikkel thinks he saw the best of me in Denmark then he is in for a rude awakening. I give him the utmost respect that he has the guts to board that plane and come collect a serious whooping at the hands of the Cobra - let's bring it on!"
Kessler defeated Brian Magee by knock-out in December in one of only three contests since last fighting Froch, and the winner from the super-middleweight unification showdown could face American Andre Ward, an opponent both have lost to in previous years.
"I promised Carl we would meet again and here we are, getting ready to leave it all in the ring for a second time," said Kessler.
"I have the utmost of respect for Carl, I feel we are very much alike. He is a great champion, a true warrior that has fought the best opponents all over the world in some of the most hostile places, just like me. Our first fight, especially the last round, showed what we are all about and I was to do it again.
"Since that first fight, I have become even stronger. I am fresh, I am healthy and I am ready to defeat him once again. I don´t care where we fight, I said anytime, anywhere! I plan to make my loyal Viking fans, as well as everybody else in Denmark, very proud once again. I am ready for war!"
A venue and date is yet to be confirmed for the fight at the end of May, but speculation suggests Greenwich's O2 Arena, with a capacity of 19,000, will stage one of the biggest fights on British soil in many a year.