Tyga's new girlfriend Carla Howe has proven she is no shrinking violet in her relationship, ensuring her high standards are met by the rapper.
The 27-year-old British Playboy model has now revealed she was approached by Love Island bosses before they learned she wasn't single, and is using the offer as a threat to her 28-year-old beau, according to a new report.
Howe has been dating the Ayo hitmaker since July last year after he wooed her over Instagram while still in a relationship with Keeping Up with the Kardashians star Kylie Jenner.
She is said to be fully aware of Tyga's "wandering eye", hinting that she may still head into the Spanish villa later this year, reports OK!
A source told the magazine: "Love Island approached Carla and asked her to do the show – but obviously, that was before they knew she wasn't single.
"If it wasn't for the situation she's in currently she probably would have done it, as there is real chemistry between the people on the show. But she's in a relationship now, and is taking things slow with Tyga – but things are looking really good for the pair so far."
The insider added: "Carla has made it clear that if Tyga gets a wandering eye she won't be sticking around – so the show could potentially be on the cards for her, should things change between them."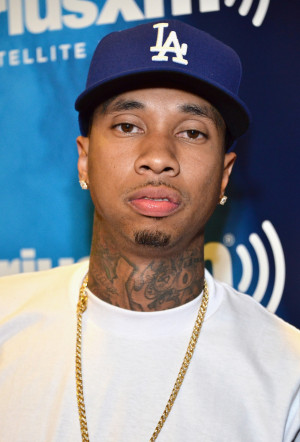 Another source revealed over the weekend that Tyga had been messaging Howe long before his relationship with Jenner ended.
They told The Sun: "Carla and Tyga started dating officially in July but he'd been messaging her since the March.
"She knew he was still with Kylie so apart from a couple of friendly replies, she didn't take it any further.
"He contacted her through Instagram and complimented her on her photos. He said he could help her career too.
"As soon as his relationship with Kylie ended he upped the ante and was messaging Carla non-stop," the insider continued.
The father of one – who was previously romantically linked to fellow Brit model Demi Rose during a temporary break with Jenner – amped things up with Howe after his relationship with the TV star ended.
The source continued: "That's when she got more serious and started responding. She would never have seen him while he was dating Kylie.
"Tyga has never talked about Kylie when they've been together and Carla has never brought it up."
Tyga then wooed Howe with a series of dates, and the ''old romantic'' pulling out all of the stops and treating her "like a princess."