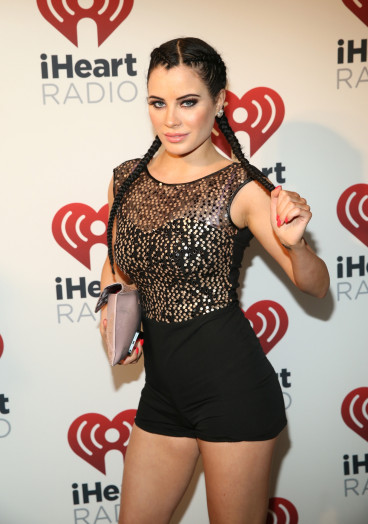 Ashley Cole was involved in a violent scuffle in the early hours of yesterday morning (30 June) after playboy model Carla Howe allegedly punched him in the face outside London nightclub Tramp.
This wasn't, however, just a scorned lover wreaking her revenge. The model wasn't the one who allegedly dated Cole shortly after his split from X Factor judge, Cheryl Fernandez-Versini. It was her twin sister Melissa.
All three were at the capital's hotspot to enjoy rapper Drake's after-party following his performance at Wireless 10 on Sunday 28 June, but Howe said that the night turned sour when Cole started to become jealous that she was friends with the musician.
Speaking about the bust-up, Howe told The Daily Star how she was glad she hit the footballer, saying: "He was trying to get up in my face, and I didn't know what was going on.
"I was scared, so I punched him. I was wearing a ring and hit him three times in the jaw. Afterwards he was shouting 'she's busted my lip'.
"No-one tried to stop me hitting him -- I think that is because of Ashley's bad karma. I did it for my sister. Ashley has caused her a lot of issues.
"He deserved it. He thinks he can treat women like dirt. He's an a******."
Immediately following the incident, Howe took to Twitter, describing her attack as "long-awaited".
She later deleted the specific tweet but not before she had written: "Happy I just punched up @TheRealAC3." She rounded off the boast with a crying with laughter faced emoji.
Despite deleting her own tweet, Howe still made reference to the attack on her personal social media account when she retweeted a comment about the fight which suggested: "Think @carlahowe may have become Arsenal fans' new favourite model after this run-in with Cashley."
This isn't the first time that former Chelsea player Cole has been linked to controversy from one of his ex-lovers.
In June 2014, the 34-year-old was investigated when it was alleged he poured a glass of champagne over model Donatella Panayiotou's head at a club in Los Angeles. Despite the scene being reported to officials by Panayiotou, no action was taken against the footballer.
According to The Daily Mail, the Metropolitan police said it had no record of the most recent attack and Cole's spokespeople have yet to make any official comment.