Real Sociedad striker Carlos Vela remains open to re-joining Arsenal this summer.
The Mexico international has scored 13 goals in La Liga this season to help Sociedad into fourth, five points clear of Valencia in the race for the final Champons league spot, with fifth place Malaga excluded from European competition next season.
Vela failed to establish himself in the Arsenal first-team across seven years in north London, however with just a €4m release clause, Sociedad are vulnerable to any matching offer.
The 24 year old has himself revealed his concern over the clause being invoked, having settled in Spain after an initial loan spell last season, but despite his reservations, a move back to Arsenal isn't far from his mind.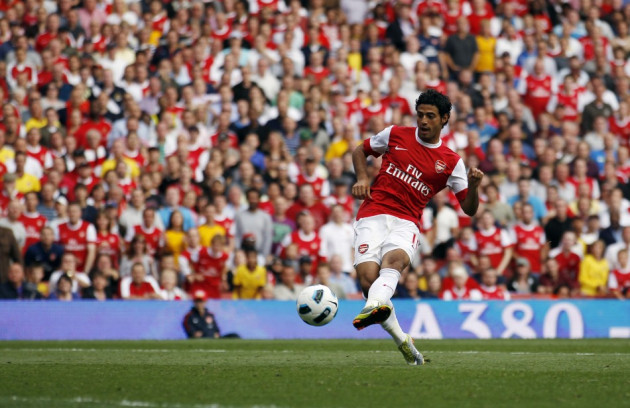 "Going back to Arsenal? It could happen at any moment, but I don't want to think about it," he told L'Equipe.
"My life is at Real Sociedad, and it is with that shirt that I want to play in the Champions League next season."
The ex-Gunner had loan spells at Salamanca, Osasuna and West Bromwich Albion before moving to Sociedad for the 2011/12 campaign, scoring 12 goals in 29 appearances and finally fulfilling his burgeoning potential.
A similarly successful season has following this term, helping Sociedad into the top four, where should they eventually finish will enter the Champions League for the first time since the 2003/04 season.
"It could happen at any time, but I don't want to think about it," Vela told L'Equipe a fortnight ago, "My life is here, and it's wearing this shirt that I want to discover European football next year."
Despite selling Robin van Persie to Manchester United, Arsenal have scored one fewer goal after 35 league games than last season, with Santi Cazorla, Theo Walcott and Olivier Giroud all reaching double figures in the league this season.
However, should Arsene Wenger's side have ambitions of bridging the gap to champions United they would be required to add a forward to their artillery this summer.
But despite some impressive form in La Liga, questions remain over Vela's suitability to fill that void in Arsenal's attack, with his inauspicious spell at the club still fresh in the memory.